BBC Interview
July 1st, 1999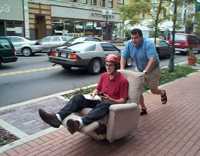 I smiled when I got the email from my BBC contact. He asked if I could do the second part of the live interview from my skateboard-propelled recliner via cell phone as I rolled through the streets of Richmond. The suggestion was as absurd and spontaneous as the Leisure Luge itself. I loved that.
The rain cleared up, I biked home and got the needed components: A recliner, an old skateboard, a helmet and a piece of plywood to stick between the skateboard and the recliner. I was ready to roll.
Click any of the thumbnails for a larger image, or follow these links to RealAudio feeds of the interview.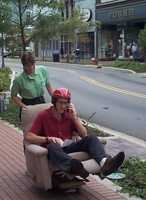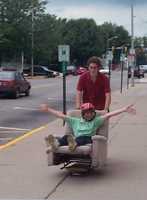 Thanks to Somethin Else and BBC Radio 5 for producing and broadcasting it, and for allowing me to republish the interview here. Thanks to Chris Hardie for doing sound engineering and the loaner phone, to Lisa and to Jay for pushing and photographing, and to Alan Moore for use of the digital camera. Finally, Thanks to Zac Fleishman for leaving the recliner at my house, and to Dr. John Craig for the unexpected video footage.

---
mark@stosberg.com