Welcome to the Leisure Luge Website!
The Leisure Luge is a sponteneous event based on the idea of putting an armchair onto a skateboard and going for a joyride.
The idea is to get teams of two or more together, and luge through Richmond, Indiana competing for prizes in five categories. Those five categories are moxie, speed, skill, theme and cumbersomeness.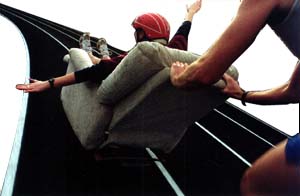 Photos by Chris Dilts