Ron Smith's Record on Sidewalk Equity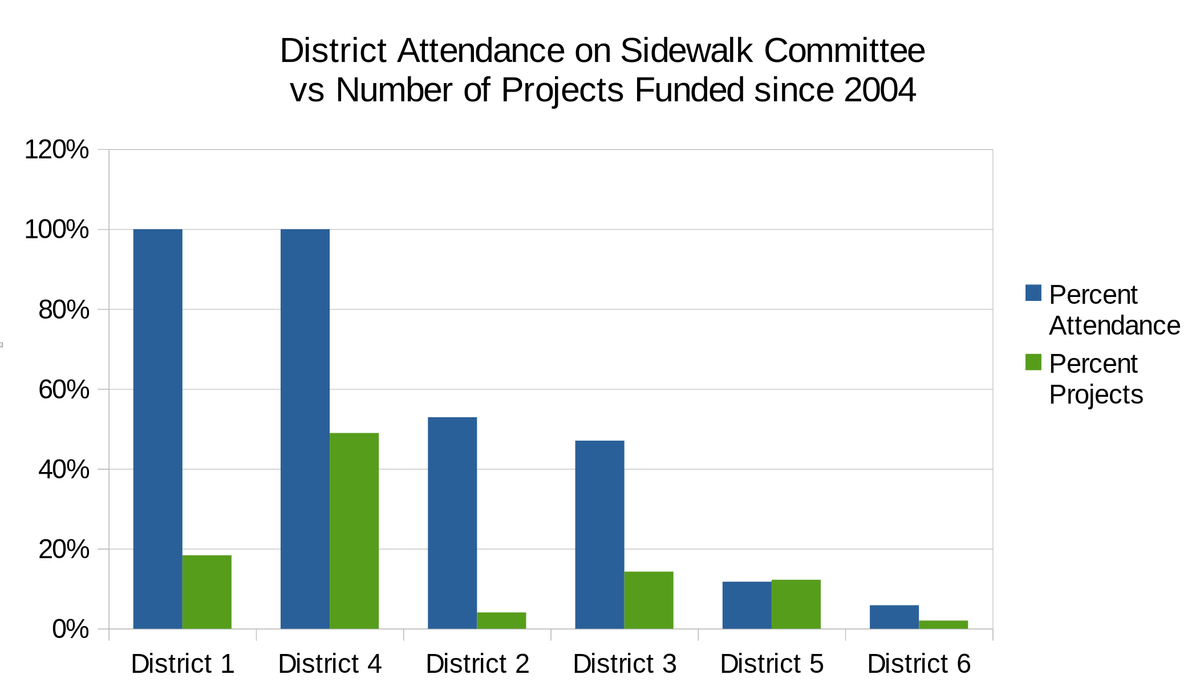 At a campaign event on Tuesday, Bloomington, Indiana City Council candidate Ron Smith boasted about his record on equitable sidewalk funding:
As Chair of the Sidewalk Committee for two years, I oversaw an increase in the social equity criteria to help build sidewalks in underserved areas of the community.
Let's set the record straight.
In November of 2020, The Sidewalk Equity Audit was published which was critical of both some Council and staff practices related to equitable sidewalk funding. The audit was not requested by Ron Smith or anyone else on Council.
The city staff, led by Mallory Rickbeil, worked to update the staff process to use a more equitable approach in the next funding cycle. The process change recommended to the City Council was to dissolve the Sidewalk Committee. The analysis of 17 years of sidewalk funding data found that the location choices weren't correlated with objectively useful, equitable locations for sidewalks, but instead correlated with Council districts represented on the Council's Sidewalk Committee.  The political committee could, and did, override the staff even when the staff used objective location selection. Here's a chart from that report:

Ron Smith's Voting Record on Sidewalk Equity
In January 2021, Ron Smith voted to keep the Sidewalk Committee, while a majority of Council members voted to transfer responsibilities to the Transportation Committee.
In January 2022, Ron Smith voted to restore the Sidewalk Committee.
In February 2022, Ron Smith objected to a resolution that would have improved sidewalk equity: From B Square's coverage of the meeting:  "At the city council's Feb. 4 work session, councilmember Isabel Piedmont-Smith floated the idea of a resolution that would have removed any council committee from the process for making recommendations on the sidewalk projects. Under Piedmont-Smith's resolution, which had been co-sponsored by Kate Rosenbarger, the council would approve criteria, but would leave to the planning and engineering staff the work of sifting through projects and evaluating them. On Feb. 4, the resolution got a cool reception from councilmembers Sue Sgambelluri, Jim Sims, Ron Smith and Susan Sandberg, who were the four members of the council who attended the work session besides Piedmont-Smith."
What Ron Smith is overseeing is a committee with a documented historic record of producing politically-biased, inequitable results.
I'm familiar with the Sidewalk Equity Audit because I authored it. I'm also married to Ron's opponent, Hopi Stosberg. She's also very familiar with the project and would vote for, not against, substantive proposals to improve the equity of sidewalk funding and other uses of community dollars.