Comment on Ordinance 22-35: Traffic Calming and Equity
This is regarding Bloomington, Indian's proposed Ordinance 22-35. It proposes amendments to our traffic calming program to add a step of Common Council approval and raise the number of residents required to move forward.
First, some context then my feedback at the bottom if you want to jump there.
Context
I served on the Bicycle and Pedestrian Safety Commission while the last iteration of the traffic calming program was being developed. I also authored the Sidewalk Equity Audit.
The Sidewalk Equity Audit found that Bloomington's distribution of sidewalks through the Council's Sidewalk Committee had not been equitably distributed and instead correlated more closely with the council districts represented more closely on the Sidewalk Committee.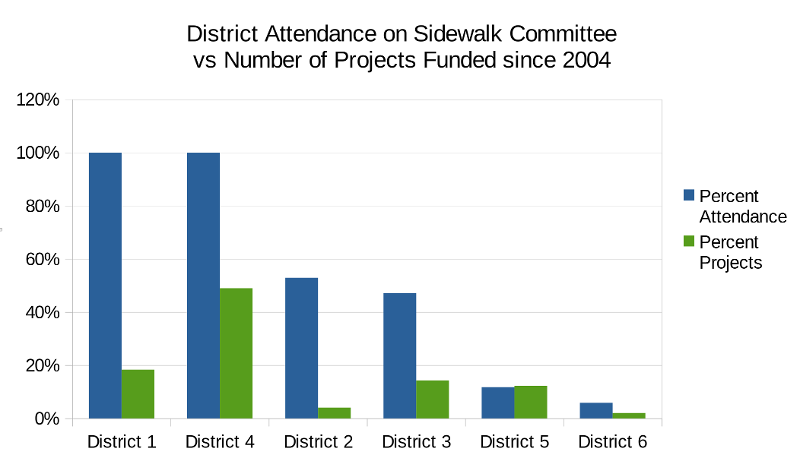 After that report, city staff moved quickly to update how they prioritize sidewalks to more objective, and Council moved to abolish the Sidewalk Committee.
An example of the staff's use of a more objective, equitable, approach is on display in the Bike/Ped Coordinator's Presentation The Steps We Take. In that presentation, you'll find maps of every missing sidewalk location, scored on objective criteria, whether the residents there have time to complain to their council members or not. Here's a map of all missing sidewalks shaded on the nearby walk potential and density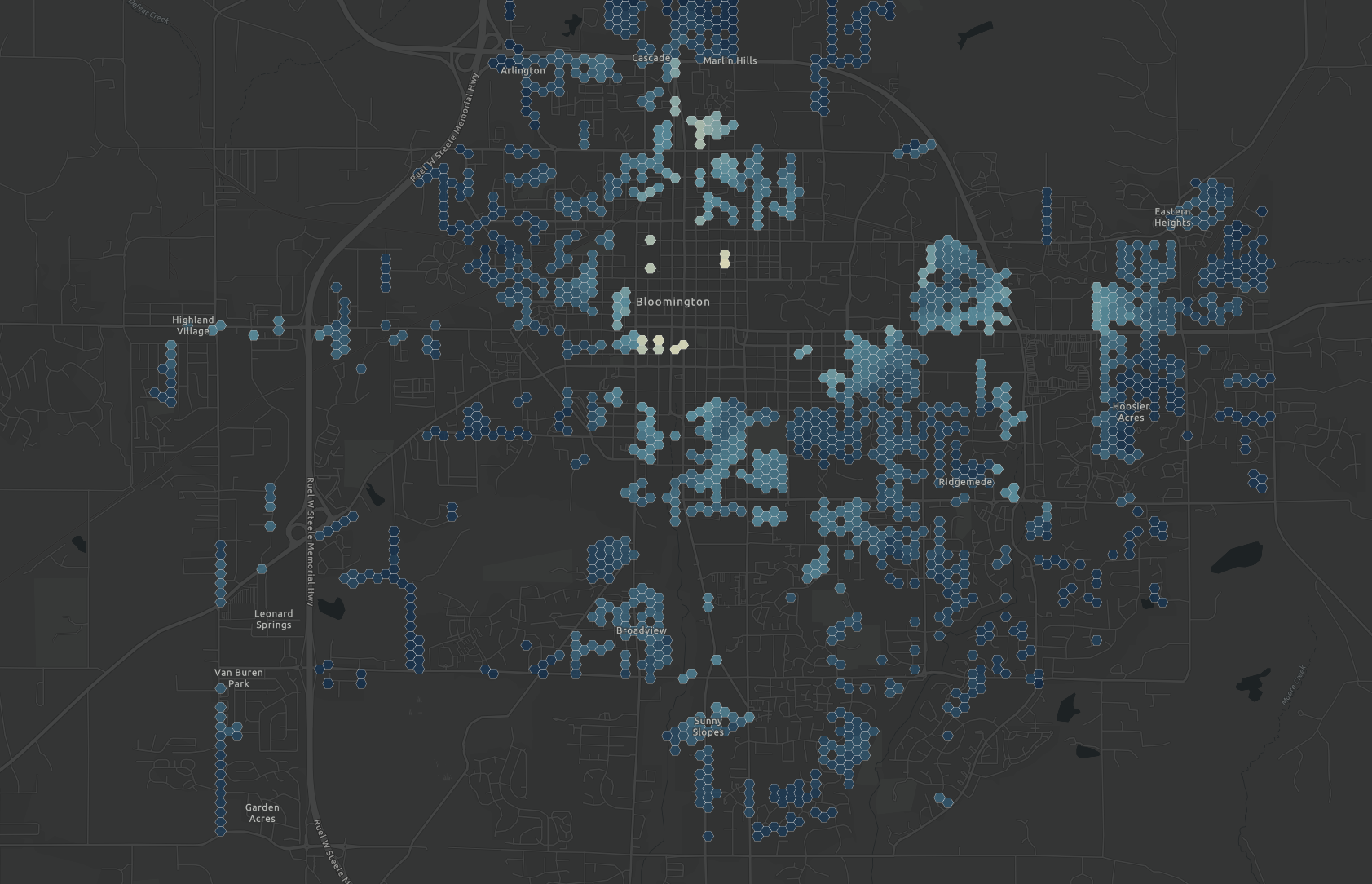 While the staff were working on more a objective, equitable approach for selecting sidewalks, the criteria for the traffic calming project selection was also being updated to be more objective and equitable as well.  Here are the objective criteria for traffic calming currently used. It factors in a number of objective metrics including some related to equity.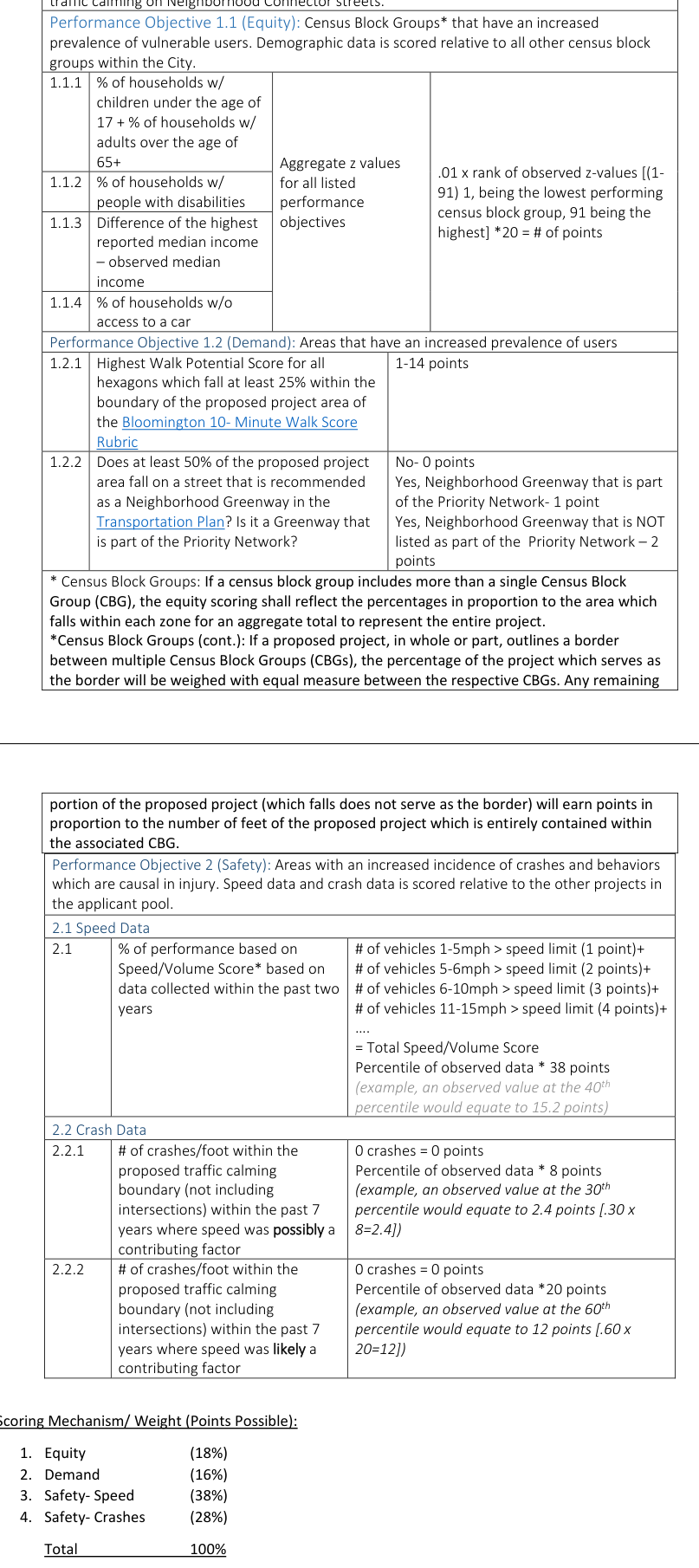 On Ordinance 22-35
🏁 A major finding of the Sidewalk Equity Audit was that using comprehensive, objective project criteria can improve spatial equity, while allowing the Council to override objective metrics at the end of the process produced outcomes that were less equitable as well putting sidewalks that failed to maximize safety and use outcomes.
💸  Traffic calming improves safety at a steep discount compared to sidewalks, the recent traffic calming project in Crestmont cost $43,600, while a mile of sidewalk costs $3,000,000 to $4,000,000 for one side of the street. It's in the City's fiscal interest to make these projects easier, not add additional barriers.
💡From reviewing past projects, staff reported that "the threshold that 51% of all eligible households vote in favor of the proposed traffic calming installation is a barrier to successful implementation. The current process is time consuming for both residents and City staff" (BPSC, September, 2020). If our city is to implement our climate goals efficiently and effectively, supporting safety and encouraging transportation mode shift through traffic should be easier, not harder.
I recommend against Ordinance 22-35 to update the Traffic Calming program.