Bikes
Training with Sleep Dog: First Long Ride with a Nap-prone Toddler

Sleep Dog worked hard.
I had a particularly tough assignment for the large stuffed animal and I wasn't sure he was up to the task.
I stood next to our bakfiets cargo bike, knelt down and asked my 16-month-old daughter Therese her opinion: "Are you ready to get on the bike?"
She raised her arm as if hanging it out a car window and nodded yes. She couldn't talk yet but this was her sign for "bike," modeled after how she hangs her arm over the bakfiets when she rides.
I raised the weather canopy and she climbed up onto the bench seat in the wooden box between the handlebars and the front wheel of the bike. She sat next to Sleep Dog, who was already buckled into the spot next to her. Sleep Dog had black fur with a big brown nose and brown paws. He was tall as Therese when buckled in, with three times the volume of fluff. He was a veteran of such missions, always willing to be there as a pillow for her frequent naps.

Today's plan was to try the first annual "Reid Ride" across Wayne County, Indiana. The event was a 22-mile point-to-point ride.  My plan was more ambitious. Despite a forecast for rain I was going to try riding 43 miles round trip with Therese and Sleep Dog in the bakfiets. Our route would take us to the start line, through the event and then back home. Essential cargo on board included a sippy cup, snack cup and some favorite toys within her reach. Out of her reach I kept diaper bag essentials waterproofed in a shoeboxed-size plastic bin strapped to the rear rack.
Not wasting any time, I pointed the bakfiets towards the end of the driveway and shoved off while the baby was still happy.
Therese had been riding in the bakfiets she was about six months old. She started in a rear-facing car seat connected to metal loops in the bottom of box, much like the a child's car seat hooks into the back of a car. Therese graduated to sitting on the bench seat instead once her head strength improved.
Buying a cargo bike was very much my idea of coping with the idea of being a new dad. Our bakfiets arrived three months before the baby did. I loved riding bikes.Being able to take our child out on a bike was an important thread of continuation from my child-free life still visible in the rear view mirror.
As she got older, I dared to go further and further on the bike here, and today would be furthest yet.
With a rainy forecast in the 60s I was wearing a long sleeve merino top which would block the wind and be comfortable when wet. Over my bike shorts I wore synthetic black dress pants which should dry quickly.
The first 4 miles to the starting point at the Iron Skillet restaurant on the Ohio border followed familiar backgrounds. I had to cross under an interstate exchange at the end, but thankfully this early on Saturday there was little traffic except for other cyclists driving their cars to the start line.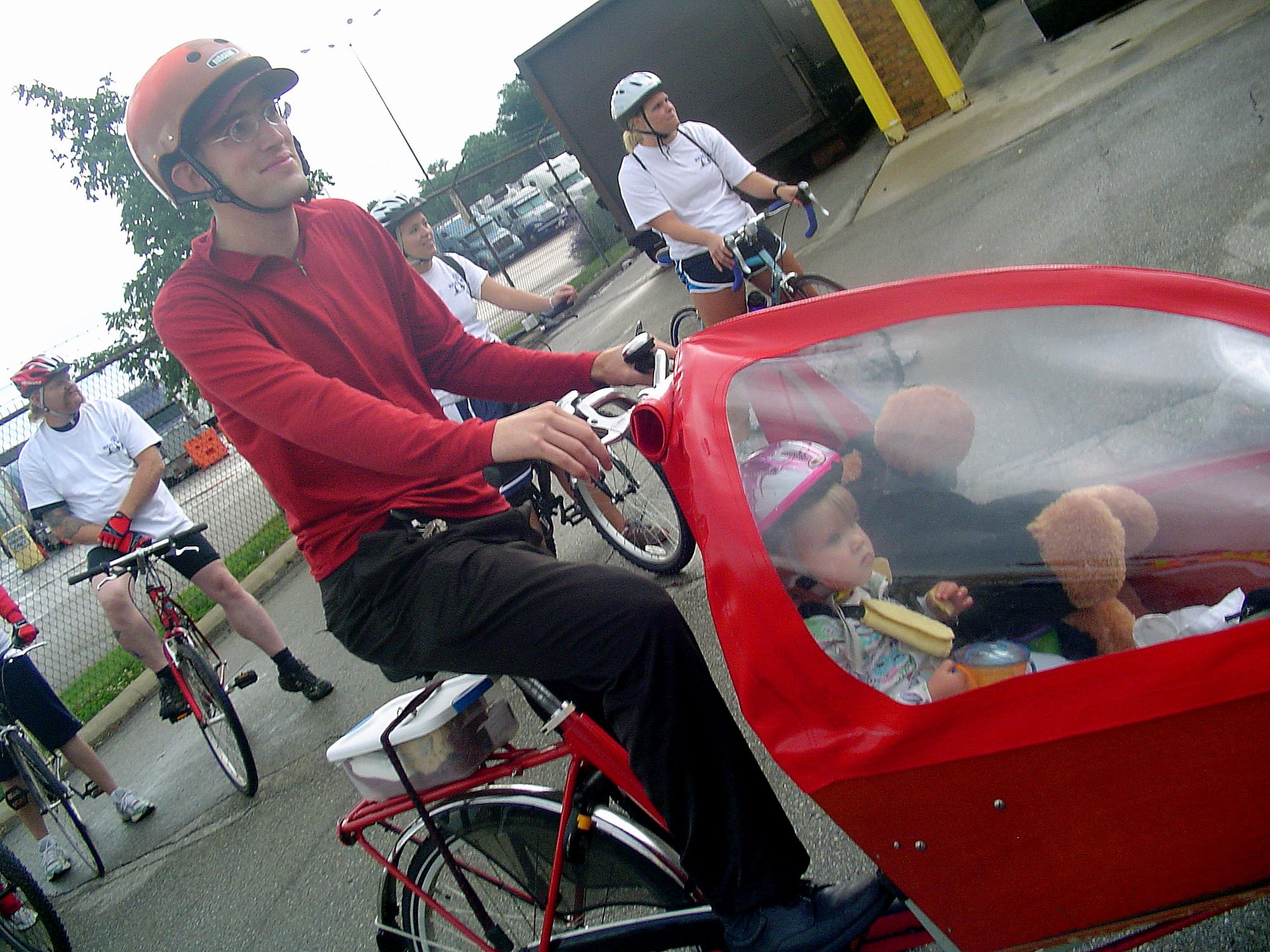 I waited nervously for the event to get started. Judging from the bikes and the clothing, the crowd was a mix of experienced cyclists as well as a number of new riders who were excited to try the stretch goal of riding of 22 miles across the county.
Family cycling had not caught on in Richmond, but I did spy another parent carrying a child in a trailer.
Therese was happy for now, peering out through the clear, vinyl weather canopy and checking out this unfamiliar sea of cyclists that was growing to over 300 people for the inaugural event.
"Three! Two! One! Go!"
Soon our mass of cyclists was rolling along National Road 40. A football field length of cyclists stretched out in front of us.
Normally riding near the interstate exchange and related sprawl was a dangerous stretch of road for cyclists. Today the road was ours.
I flew down the long uphill, making the most of momentum with the heavy bike. On the following long hill, several cyclists caught up and passed us as the weight of our heavy bike worked against me on the climb.
And so the ride ebbed and flowed. I chatted with people going by as we moved forward and back somewhere in the middle of the mass of cyclists.
Therese nodded off briefly, resting her head against Sleep Dog, and then woke up again to take in the uncommon day.
In Centerville about 10 miles into the ride I stopped at an aide station to share a banana with Therese, pick up her dropped items and rotate the toys she could reach.
She was again content to keep going, but that was about to change.
The skies had clouded over, the temperate had dropped a few degrees and gentle rain had started to fall. She was warm and dry underneath the canopy, but her mood was shifting with the weather.
As we approached East Germantown, we were 20 miles into the event and 24 miles into our own adventure. Therese was starting to stomp her feet in the box, cry, and was clearly adamant that she wanted to be done.
I pulled the bakfiets over at an abandoned storefront with a bench out front. I got Therese out of the bike to give her a hug and decide what to do.
As I sat under the ancient awning, I looked out on the stream of cyclists continuing go by.
I went through a round of triage with extra food, water and a diaper change for her, but she remained unhappy. Standing again, She combined her sign for bike with a vigorous head shake, telling me essentially "No bike! No bike!"
Meanwhile, it appeared the last of cyclists passed us.
More important than my distance goal was to make sure Therese had a positive experience on the trip. If she was going to be this unhappy, another 20 miles of riding was not going to be fun for either of us.
Since we were almost at the end of the organized ride and our turnaround point, turning back was almost the same distance as finishing.
I called my wife and asked if she could come get Therese in the car. Hopi agreed and started driving our way.
However, the car rescue was also still 15 miles away, and Therese was also not enjoying sitting on bench at an abandoned storefront in East Germantown, Indiana.
The fastest way to get her home would be to put her back on the bike and start riding back the other direction to meet the car sooner. So with a certain amount of kicking, screaming and crying I strapped her back into the bike.
I was now the only bike on National Road 40 as I head back in the opposite direction.
Therese's protests quickly trailed off. Within five minutes she was fast asleep with her head resting on Sleep Dog.
Sigh. How had I failed to recognize the "storm before the calm," that flare up of acting out that so often proceeded a fast descent into deep sleep for our toddler?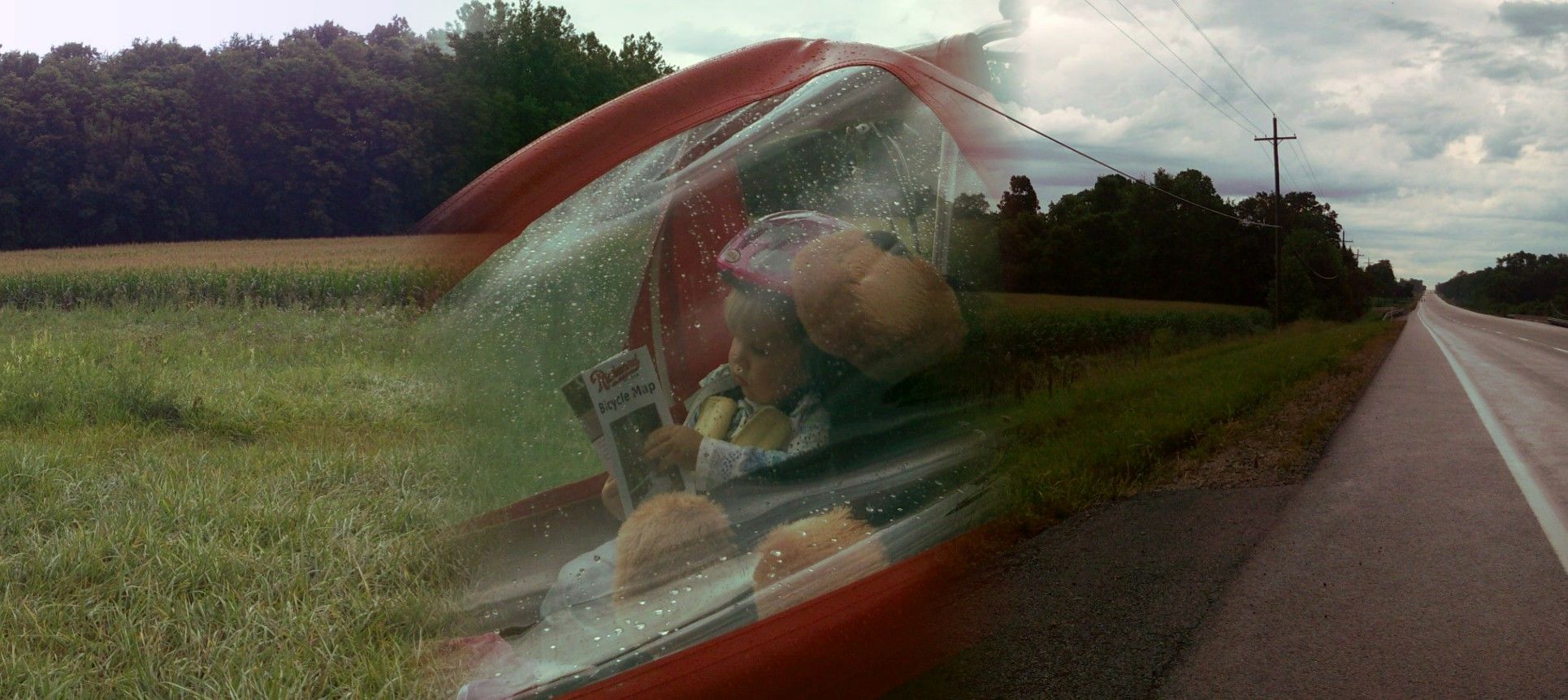 I pedaled back through several miles of flat Indiana farmland before I spotted our station wagon for the child exchange. This wasn't the ambitious ending I was hoping for but we had still clocked over 30 miles on the bike together, a record for our longest bakfiets ride.
As I finished riding home alone, my mind wandered to our next cargo bike adventure.
If she could ride nearly 40 miles in the bakfiets, why not use the cargo bike to take my daughter on a weeklong bike tour in the fall?
This is a prequel to Cargo bike touring with an 18 month old.