Health and Wellness
50k Instant Pot Oatmeal Recipe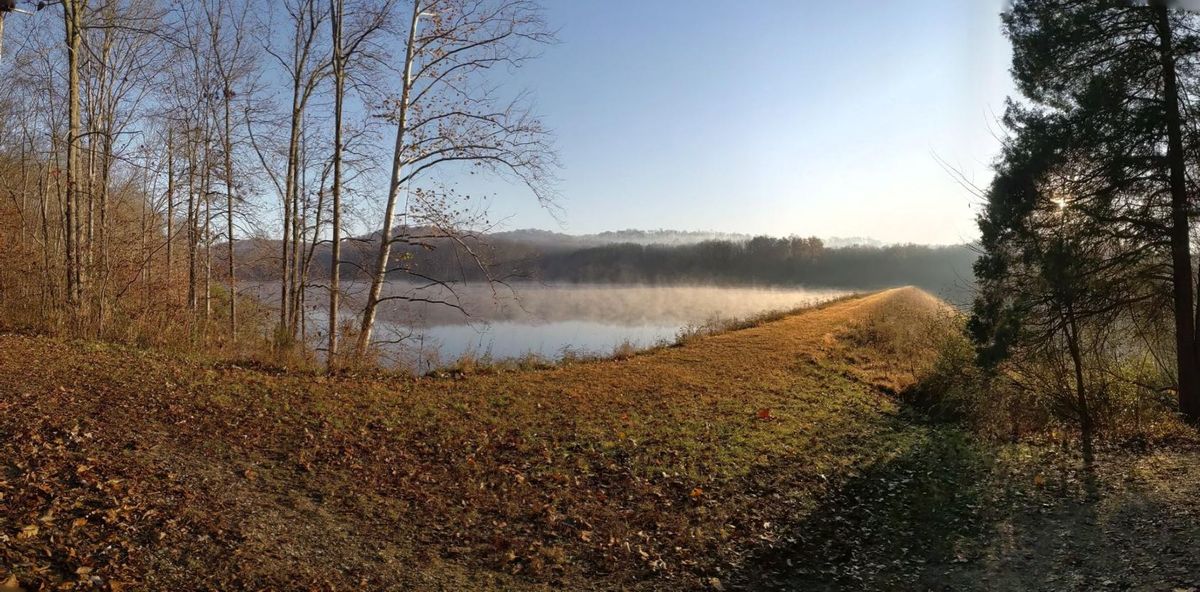 I was sleeping when the text arrived at 11 pm on a Thursday night.
"Want to run a marathon with me on Sunday morning?"
Accepting this invitation from a college roommate and friend from two decades ago didn't seem particularly advisable. I had just completed marathon distance runs for the past two weekends and had a 50k (31 mile) trail race planned just six days after this Sunday.
In the morning I told my family so they could tell me it was a crazy idea. We'd have to wake up at 5:15 AM for the two hour drive to Richmond, Indiana. But my pandemic-quaraantined children were VERY ready to leave the neighborhood and the early start time did not dissaude them for an opportunity for a change of pace.
Meanwhile Matt from college had clarified that while he wanted to run fast, he wasn't planning a flat course. The playlist of roads he'd selected was a top 10 list of nostalgia filled hilly country roads. I wonder how clearly he remembered his enjoyment of running up them.
Despite possibly endangering my 50k race performance, I agreed to join the "Mattathon". The day arrived and the first 13 miles of the 26 went well enough. We clicked along at 7:30/mile pace, which felt "fast but comfortable"... at the time. We chatted and caught up under a fall canopy. We glided past farms and creeks with the Sunday morning roads to ourselves.
But at mile 13 the wheels were coming off for Matt. He took a short break where his family had met us by the roadside, but he didn't fully recover. I still felt good and helped pace him through the reminder of the course, encouraging him to jog when he was inclined to walk.
Meanwhile my family was off doing their own run as they all had a 6 mile race the same day I had my 50k the next Saturday.
My 12 year old daughter appeared on the course to run the last mile with us and I was game to race here in a sprint finish at the end. I had never run a marathon-distance run only on the road. Due to that this also happened be my fastest marathon-distance run ever.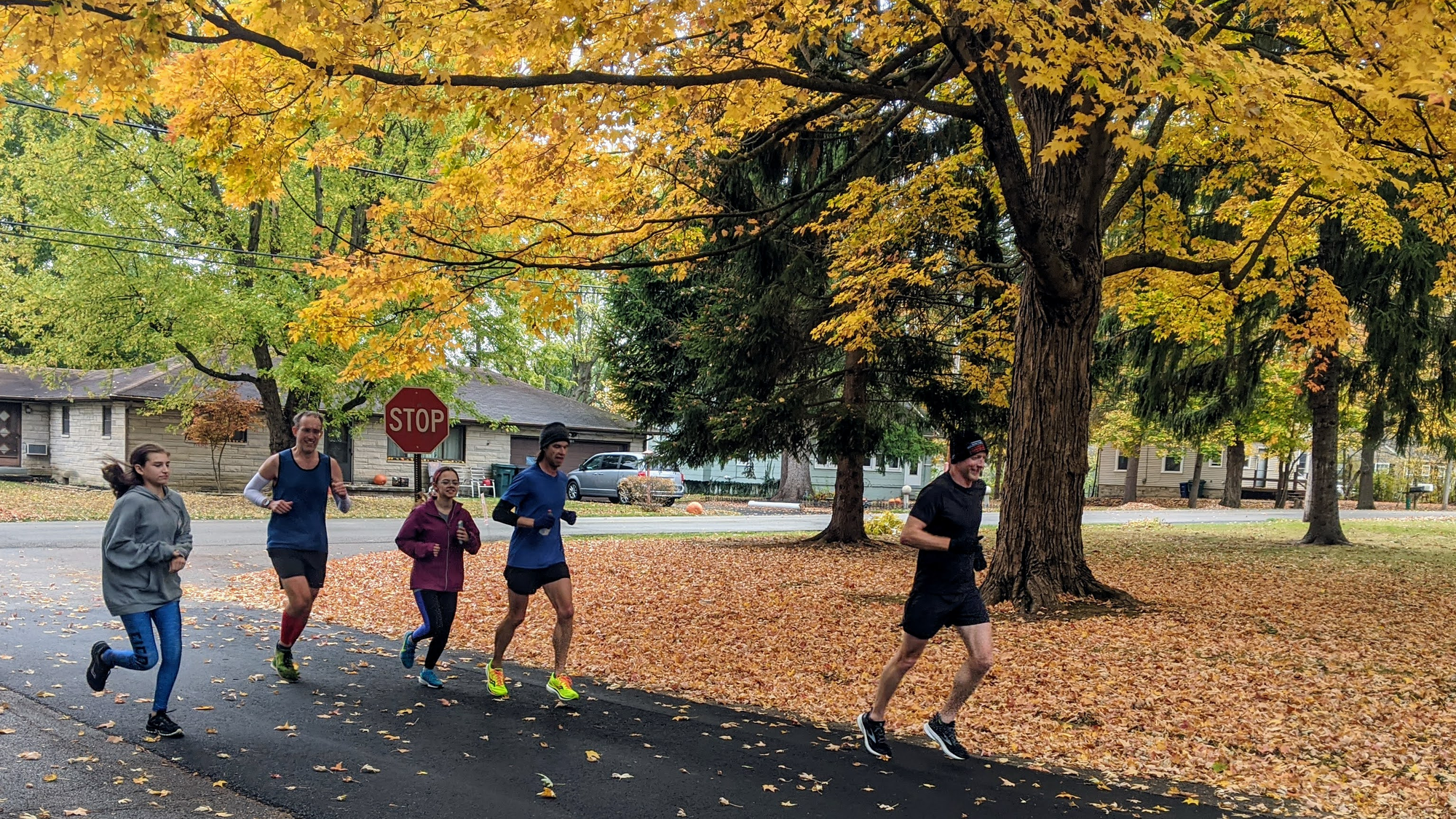 Soon the wisdom of adding this extra marathon to my schedule would be tested in a 50k trail race. I give my plant-based diet some credit for my ability to avoid injury and recovery quickly and that's what happened after this marathon. By mid-week I was feeling recovered and ready for the 50k challenge that was six days later.
I went on to post my fastest 50k trail race time as well, finishing in just under 6 hours-- good enough for third place in my age group. My plant-powered family all placed well in their age groups in the 6 mile race as well.
---
Here's my "50k Oatmeal" recipe. This is what I have nearly every morning for breakfast in the cold season. My daily "work from home" habit is to put this in the Instant Pot when I wake up. I run for about an hour while it cooks, when I return the dish is waiting for me on "low" at a perfect temperature to eat.
On my 50k race day, I ate this breakfast about 7 am and didn't eat another solid meal until close to 3:30 pm. Whole foods contain more fiber. That fiber helps slow down digestion, delivering the nutrients to my body more slowly over time-- a good race day strategy for a long event.  While I ran my nutrition came from about 200 calories of Tailwind drink mix per hour, about 1,200 calories total.
On my oatmeal I add cinnamon, ginger and (recently) tumeric. These are all promote circulation and reduce inflammation. The trio of spices are particularly great for running in cool weather.
This is a flexible recipe. I've given you the proportions I use as nearly 200 lb, 6'4" guy who runs about 60 miles per week. The key part is the 2:1 water to oats ratio.
Make your life easier by re-using the measuring cup for oats for the water. Do the water last and the cup will be piratically rinsed and clean when you are done!
In the video I use equal parts non-dairy milk and water. Since then I simplified the recipe to just use water. Taste is about the same, while const and complexity are reduced.
Recipe
Ingredients
3/4 cup rolled oats
1.5 cups water
2 medium apples, chopped into 1" size pieces
some dashes of cinnamon
small handful of nuts (optional)
2 or 3 dates, dried apricots or other dried fruit (optional)
splash of vanilla (optional)
some dashes of tumeric (optional)
thin slice of raw ginger, peeled and finely diced (optional)
Steps
Put all ingredients into a digital pressure cooker and set the cook time for 2 minutes.
Go run or get ready for your day.
It's fine to quick release the oats after 2 minutes to minimize the cook time. However, they'll also be fine if you leave them alone for a natural release.
To help the oats cool down faster to eat, consider using a plate rather than a bowl to release more steam. Stirring in a non-dairy yogurt can also help them cool off faster. I like Forager's brand of plain, unsweetened cashewgurt.
Other toppings that are fun to add are fresh berries, sliced bananas or flaxseed meal. I grind my own flaxseed a cup or two at a time and keep a jar in my fridge for this purpose. Flax is a great source of Omega 3s, and grinding my own is cheaper and fresher than buying flax meal from the store. Our bodies have trouble digesting the whole flax seeds directly.
Enjoy!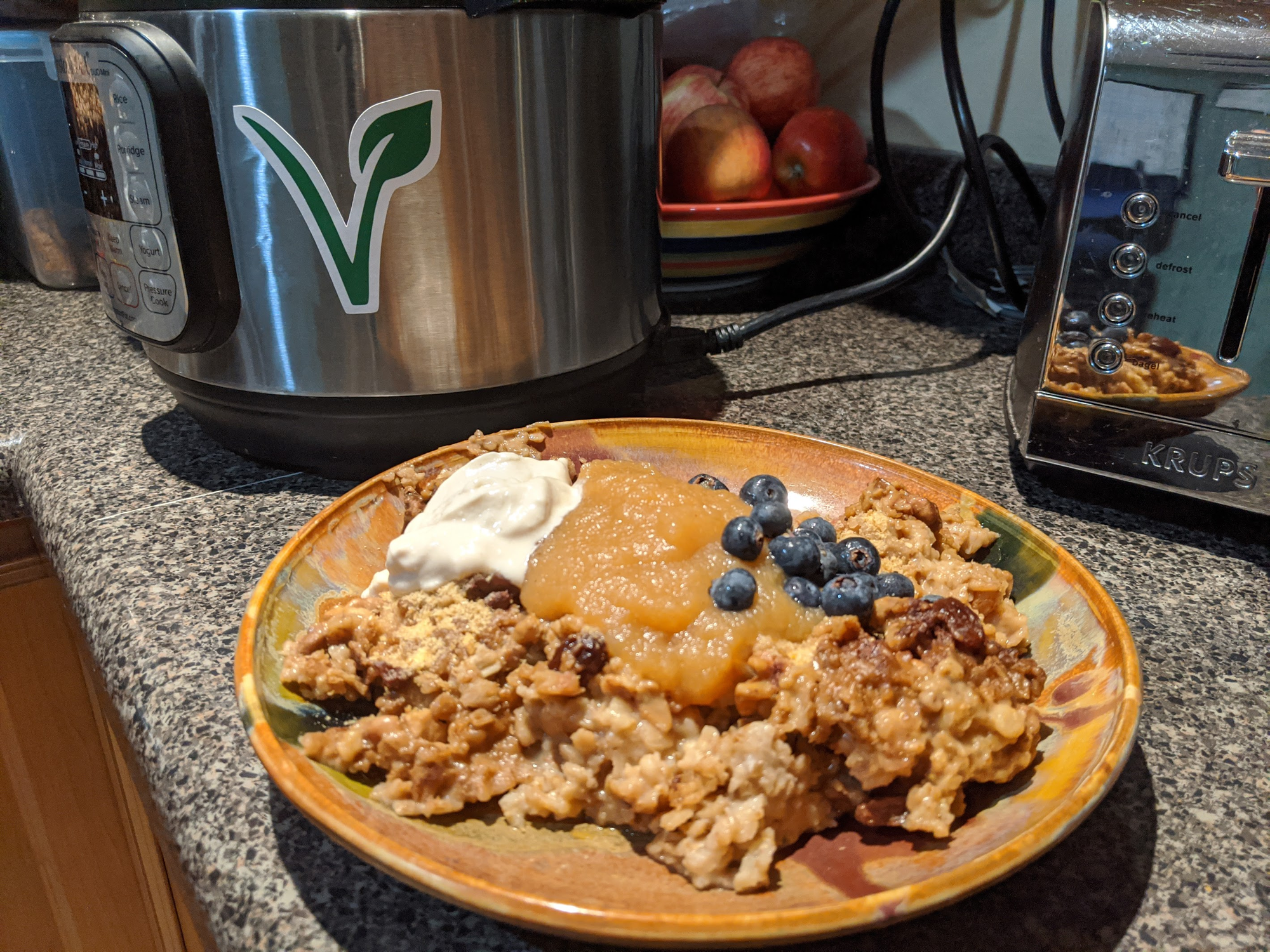 Notes
After I ran that 50k, the weather was still great for running, so I did another solo 26.2 mile run the following the weekend and then my 6th in 26.2+ run in a row two weeks later. The photo of Yellowwood Lake is from that 6th long run in in the fall of 2020.
After that, I broke the streak to do a 6 mile trail run with my 9 year old.
My final race of 2020 was cancelled, but I still got in a 14th 26.2 run before the season closed, and it turned to be a marathon PR for me. And yes, I had my "50k Oatmeal" breakfast that day, too!
💡
Recipe App Compatible! This recipe has been coded for easy importing into recipe apps.