Bikes
Carrying a baby stroller on a cargo bike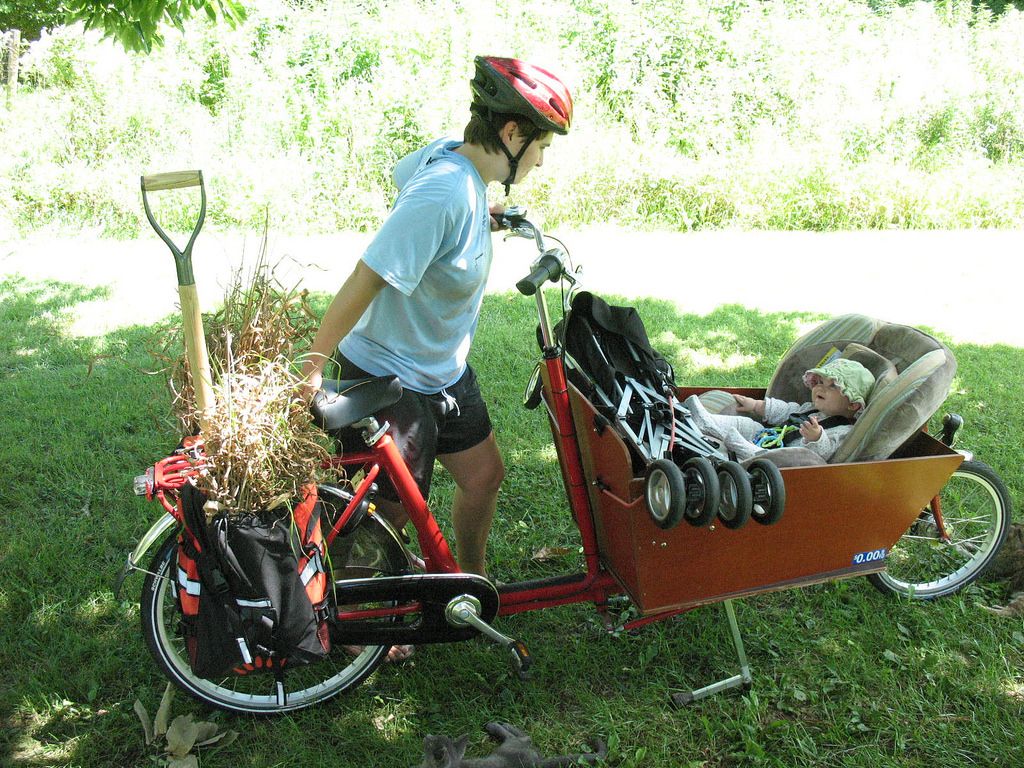 There are a few options carrying a stroller on a cargo bike, like Radwagon, Yuba Mundo, Surly Big Dummy or an Xtracycle.
The simplest options is do without. Perhaps a sling will do. If the stroller is to be used primarily on lightly used sidewalks, a bicycle with a child on it could be pushed along instead.
Option: skip it
Sometimes my wife would go shopping at the Farmer's Market in this manner, pushing a bakfiets through the market with the child on it:
I hope for the day when our local market is too crowded for that to be feasible.
Some strollers are too big for bikes!
Before I get to the solutions that do work, I'll share one attempt at putting a stroller on a bakfiets that didn't work:
Umbrella strollers are best for cargo bikes
That stroller was too big and heavy to bother with on a bike. So most of the time we laid an umbrella stroller across the top of a bakfiets, and bungee'ed it on, as seen here:
Here's a shot of the stroller unfolded:
The stroller is a Silver Cross Pop. It's lightweight and works very well. For it's minimalism, it still have a few features: There's an area underneath the stroller to stow things, a pocket on the rear, the option to recline, and a sun shade.
When we are pressed for room in the box, I found that we could also carry the stroller vertically, also using bungee cords:
Umbrella stroller on a bakfiets / frontloader box bike
Jeff Bertolet shared this photo of a stroller strapped to the side of a CETMA cargo bike. I believe the key here is that CETMA has additional points to attach bungee cords. Additional eyelets could be screwed into a Workcycles bakfiets for the same purpose.
Umbrella stroller on an Xtracycle / Mundo / Radwagon longtail cargo bike
An umbrella stroller can also be stowed on a longtail bike such as an Xtracycle or a Yuba Mundo. One option is to
stick it vertically in the bag:
You could also strap it to the side, using the open design of Freeloader bags, or by attaching it to a wideloader. Although it's not visible here, there's a full sized Maclaren Stroller strapped to the other side.

Some bike trailers convert to strollers
As a final option, there's the solution that can be used with any bike, which is to use a bike trailer which converts directly into a stroller. I have not tried this myself, but Teppo Moisio has a great review video of Chariot Cougar, which demonstrates how it can convert from a bike trailer to a 4-wheeled stroller or a 3-wheeled jogging stroller:
Do you have other photos of stroller-on-bike solutions? Post links in the comments below!