Bikes
First Saturday with a bakfiets cargo bike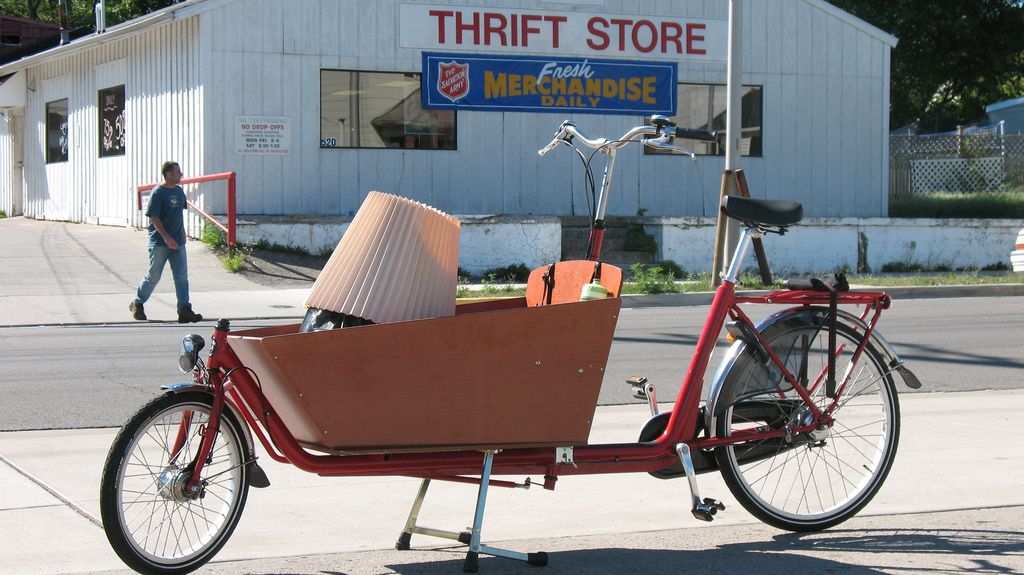 Our first cargo bike arrived eight months before our first baby so I had some time to break it in.
My wife and I kept it busy from breakfast to dinner. This was back in 2007 before Strava, so there's no GPS trace of the route, only the memories of the smiles-per-miles.
She took it first, riding it to Jazzercize and then to the farmer's market. She had trouble leaving with her cargo of sunflowers due to all the people asking about the cargo bike. Questions from strangers are common with the bakfiets.
The bakfiets has quick release seat and easily adjusts to riders of different heights. So although I'm a foot taller, it was easy to raise the seat for the next mission: a 10 mile (16km) round trip to the landfill to drop off 100 lbs (45 kg) of yard waste.

Wrapping the garbage bags in a tarp kept the bucket extra clean. On the way back, I stopped at the new Mexican supermarket for some coconut juice. Coconut juice is a great Gatorade alternative!
A single bag of groceries looks ridiculously lonely swimming around in the big bucket. I can only imagine how a single bag must feel in the Siberian expanse of an SUV.
I found myself near a friend's house and stopped by say hello. Their five year old daughter was won over by the bike. She easily climbed in for a ride, thanks to the rock-solid 4-point kickstand and the hidden kid-step on the side of the box. The bike provides two kid safety harnesses. After two trips down the street and back, she asked to go around the loop "one more time", but I had to move to on.
I returned home for a break, but soon planned the next outing. Next the bakfiets was loaded up with a bulky garbage bag headed for Salvation Army. A second smaller bag of bike parts was thrown in to take to the Earlham Bike Co-op, and the ensemble was topped up with a lamp shade on its way out.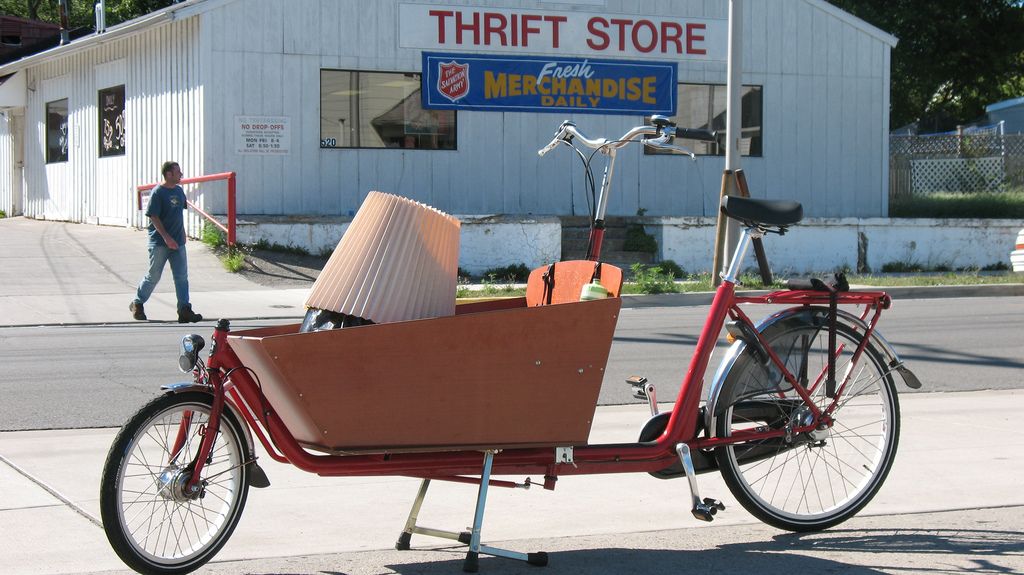 With those two loads dropped off, I picked up another bag of groceries from the Clear Creek Food Cooperative.
Piloting the bakfiets is like pedaling a pick-up truck. I just throw stuff in and go. I don't worry about special bike bags or how heavy or big the load is. Everything fit easily today. And at the end of the day, there was no gasoline bill to pay: this trip was run on coconut juice! Yes, I exerted some effort at times, but I was also getting in shape and enjoy every minute of these "chores".