Bikes
How to attach a Burley Piccolo to a Surly Big Dummy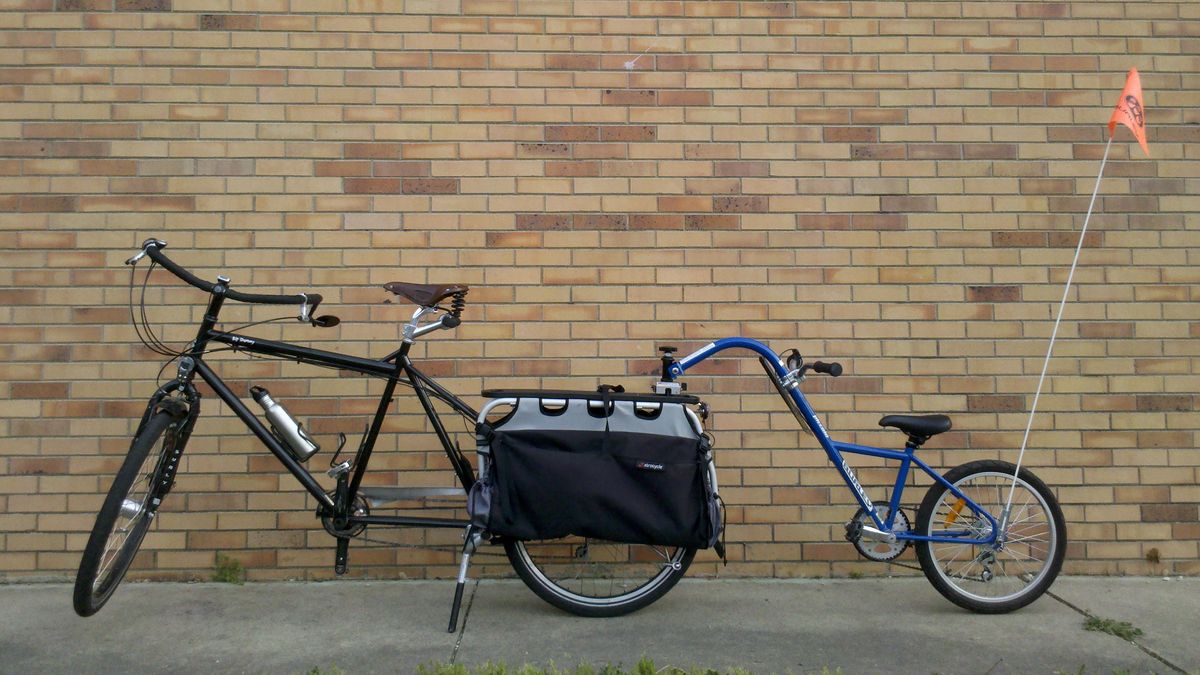 This post used to be titled "How to attach a Burley Piccolo to an Xtracycle. While the Surly Big Dummy originally used Xtracycle brand rails and top deck, in 2022 all Xtracycle bikes use 24" rear wheels, which changes the geometry of how the Piccolo would attach and I have no experience with trying a Piccolo attached to a smaller rear wheel like that.
Surly Big Dummy cargo bikes and Burley Piccolo Trailercycles are both great for family biking. Unfortunately, there's currently no ready-made way to attach a Burley Piccolo to a Surly Big Dummy.
This post describes the four designs I've seen to connect a Piccolo to a Surly Big Dummy.
Greg's Xtracycle-Piccolo connector v1
Greg Steele published photos online of a custom solution he developed. I found and mimicked an early solution that I created for this.
It worked like this: I started with the provided Moose rack, and use a hack saw to cut it down to just the essential part that was needed to connect to the Piccolo.
Here you can see a finished photo of Greg's design that I followed:
I made the remaining "feet" of the hacked rack as short as possible so that the Piccolo bolt could go all the way through, without interference from the Xtracycle Flightdeck.
Then, two more holes were drilled into the cross bar, and corresponding holes were made in the Flightdeck. Bolts went down through the top and were secured with washers and nuts on the bottom. I made them extra tight, so that the bolts had no room to wiggle work the plastic to make the holes larger.
Here's what my own result looks like. Click through to see an extreme close-up:
You have some flexibility in how far back on the Flightdeck you put the mount. The further forward you put it, the more stable and easier to manage the Piccolo should be. This is because the mount will be closer to being directly over the rear axle, as it is with the Moose rack. However, the Piccolo mount is not easily removed and it effectively divides your deck in two, making whatever is behind it effectively dead space. So the further towards the rear you put the mount the more continuous space you have deck. A final consideration is the Flightdeck itself. Flip it over before you drill. You'll see the plastic is thick is some parts, and thin and others. You definitely what to mount it through the thick plastic! That constraints your position options some.
I choose to mount mine fairly close to the rear. I found I could handle it well enough, but I was also dealing withe constraints of where Flightdeck provided thicker plastic.
This has worked well-enough for me, but there are some better possibilities. First, with my particular position, I ended up putting it so that the "arms" are directly above the Superhook allen head holes. They can still be accessed with ball-head allen wrenches, but it's a pain.
The biggest drawback to my solution is there are only two points of contact with the Flightdeck, leaving a bit of possibility for the the attachment to be pivoted back and forth. In practice this hasn't been a problem, but it's not ideal and is addressed in other solutions.
Here's a photo set from Greg dedicated to the approach I followed.
Here's a short video that shows the potent combination of combining the Burley Piccolo with the Yepp Maxi attachment built into the latest Flightdeck. You can attach or detach a couple kid hauling options in just a minute or two– that's great flexibility!
Greg's Xtracycle-Piccolo connector v2.0.
Greg later improved above the design with "v2.0" approach, which looks like this:
He also has a full photo set for his v2.0 mod.
In this revision, he addressed the remaining sharp edges and the potential to rock back and forth by apparently hacking some already bent parts of the rack, cutting of the sidebars off the mount hold completely, and rewelding and the thing back together, and finally repainting to look sharp. If this sounds intimidating, perhaps you could provide the design to a local bike shop or hardware hacker to have them
create a a custom mount for you based on this design.
Family Ride DIY Xtracycle/Piccolo connector
The Family Ride blog has a post dedicated to their DIY
Xtracycle/Piccolo connector.
This one looks like perhaps more work to construct than the other DIY options above. It also requires that you cut your top deck of the Xtracycle to a shorter length or build yoru own top deck as well. However, it's the only design that makes a direct connection from the Piccolo to the aluminum Xtracycle frame. That is: the plastic top deck is not involved in the connection system. If the idea of running the connection through the plastic top deck doesn't appeal to you, this is a design for you to pursue!
Bike Friday prototype commercial connector for Haul-a-Day + Piccolo.
Bike Friday made a prototype connector of their own as a companion accessory to their "Haul-a-Day" longtail. As of 2022 they did not make it into a commercial product and at this time I don't expect it to be commercialized.
Here's a detail of the best shot I can find of the Bike Friday solution.
It appears that it's fabricated from scratch rather than re-using a rack, appears to be attached to the deck with four bolts instead of two, re-using existing holes on the deck instead of requiring new holes. This looks great, and is what I would expect from a commercial offering. It's not clear why it didn't graduate from a prototype to a commercial product.
What about attaching a Piccolo to a Yuba Mundo instead?
If you are interested in attaching a Burley Piccolo to a Yuba Mondo, I have a post about a DIY solution for a Yuba/Piccolo mount as well.
If you are wondering if Yuba will be offering an official accessory for Burley Piccolo mounts, I think the answer is... probably not. In 2013, the official @YubaBicycles Twitter account twetered that they had one "in the planning stages"... but that was about nine years ago.
A quick long term review
I've had this Piccolo attachment on my Surly Big Dummy for over 10 years. There were no design failures during that time. The safety of the design requires that the rails are secured to frame, that the deck is secured to the rails, that the adapter is secured to the deck, that the Piccolo is secured to the adapter, and that the rider is not too big and jerky to stress the plastic deck.
Ideally, there would be fewer potential failure points, but in practice over the lifespan I wanted to use it for, there were no failures or near-failures of the DIY solution.
The "Family Ride" solution appears the most secure, because combines the "deck" and "adapter" parts into a single piece, and eliminates some plastic from the system.  Next, for safety I'd rank the "Greg v2" solution, because it bends the adapter rails down to the plastic deck, eliminating some flex.
But both those are harder to fabricate than the "Greg v1" solution I used, which primarily involves cutting up a Moose rack with a hacksaw.
I have not seen anyone attach a Piccolo to Surly's aluminum Dummy Deck, but that could be interesting option to look at instead of using the plastic Flightdeck.