Bikes
New Bikes-at-Work Trailer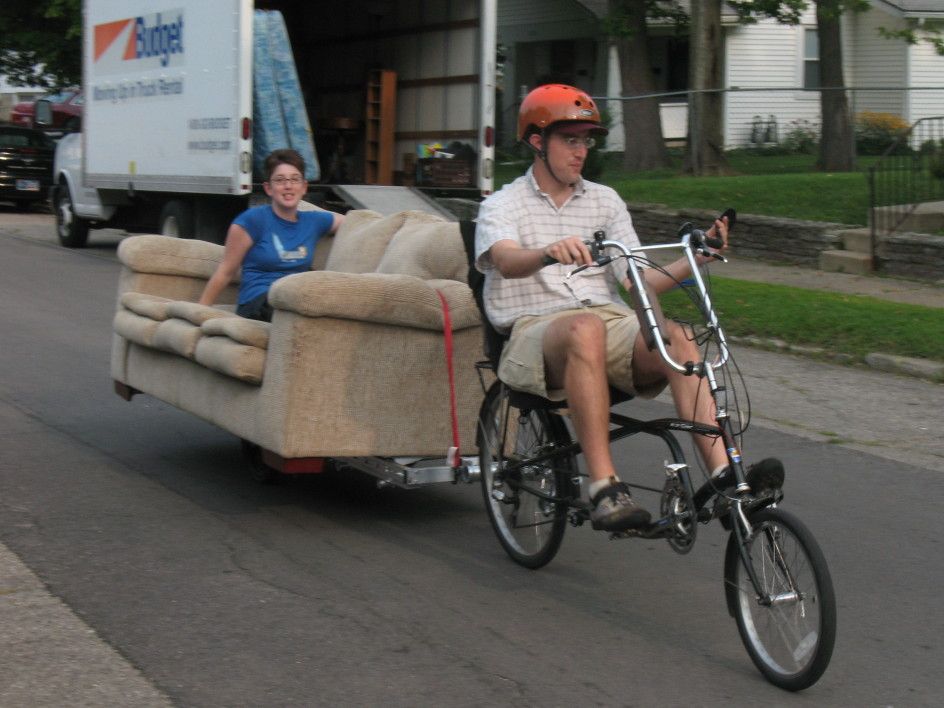 My new eight foot cargo trailer from Bikes at Work. (See more photos on Flickr).
It's rated to haul up to 300 lbs, or cargo up to 15' long. These trailers seem to make an appearance in so many bike move videos because of their ability to haul couches, refrigerators and canoes.
Here I was helping a friend move a sofa about 1.5 miles over mostly flat terrain. The sofa was nearly eight foot long. If it had gone on the truck, it's footprint would have taken up nearly a quarter of the available floor space, making packing the truck significantly  more complicated, if it was still possible. Over this distance on a bike, I arrived just a few minutes later than the moving truck did.
My first impression is really how long an eight foot bike trailer is. Most truck beds aren't even that long. While cars and trucks may have the power to haul even heavier loads, the versatile flatbed trailer design is able to haul some sizes and shapes that many cars and trucks can't fit.
I'll be posting more photos and impressions as I have more adventures. I can already say that I'm pleased with this new human-powered hauling option, and expect to find plenty of uses for it.
While Becky hopped on for a test ride, I didn't actually haul her the whole way. Others have already pioneered guest-on-couch hauling.