Running
Review of Black Diamond Distance 15 and Osprey Daylite Packs (for run commuting)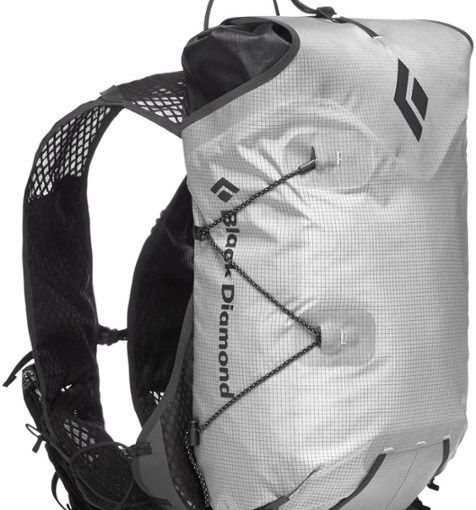 I've been using the Osprey Daylite pack for almost 5 years for run commuting with a small laptop. It's been totally great and is an amazing deal at about $50.
I've been running more frequently recently and bought a second pack to give the Daylite more of a chance to make it through the laundry cycle. Having all my gear smell great after running to the office is a priority!
I often considered just getting a second Daylite, but stayed on the hunt for another backpack that would have basically the same feature set, but add one feature I wanted: pockets up front.
Easy access to the storage isn't that important for the relatively short runs to work, but my perfect pack would be able to serve double duty as a "race vest". Now popular in trail marathons and ultra-distance events, race vests move water storage up into soft flasks in the front pockets, rather than using hydration bladder on the back. Water party up front, still all-business cargo storage in the back. Many race vests don't offer enough storage in the back for run commuting, but my perfect pack would.
Now let's move to highlighting some details about the Distance 15 that you won't find in the brief product descriptions about it on the internet.
Carrying a laptop
I've tested the Distance 15 with carrying either a Dell XPS 13 and a Google Pixelbook in the hydration sleeve. Both fit. It's cozy. Don't expect a husky 15" to fit. I measure the interior back of the size Large at roughly 14" tall, 8.5" across, tapering down to about 7". The mesh fabric of the hydration sleeve is stretchy, so you can exceed these dimensions a bit.

Carrying a wallet and keys
Officially there is a wallet-and-key pocket in the interior. You can see it above, because I generously turned the pack inside out to photograph the delicate bits for you.

For run commuting, there's no need to fill the front pockets with snacks and drinks and it's way it's way more convenient to keep wallet and keys up there. Check this out: there's a hidden safety whistle in one of the front pockets. It's on a loop that perfect for hooking keys to:

I put a minimal Corkor wallet right in the same pocket. This way I'm prepared for the dystopian future of needing to stop and pay to use privatized toilet in the future. Just kidding. Hopefully not. Having my wallet and keys up front reduces wallet-and-key anxiety. After a hurried launch in the morning or a tired exit in the evening I may find I haven't been mindful about stuffing all my gear in pack. Did I pack the wallet? Did I pack the keys? With those babies are up front nestled in my bosom I can just give them a quick pat to know that they are safely on board without breaking stride.
Carrying bananas and machetes
I'll get fat snacking on nuts on my desk, but bananas are a pretty perfect snack. The trick is to carry the bananas in a way that's supportive, without too much bounce.
In the Daylite, bananas nestle nicely in the side back. Remember to point to the stems away from your arms to avoid scratches. Just saying. If you have your banana spoon an apple in there, that works pretty well too.
I've confirmed the Distance 15 stores bananas fine in front, although I feel a little bit forward point bananas at people like that. The lacey see-through mesh doesn't leave much to the imagination.
Apples are fine as a bottom-pocket fruit.
When you are carrying your apples and bananas up front and exposed like this, you might be worried about apple and banana theft.
So on your behalf, I've tested carrying three large machetes in the pack for apple-and-banana self defense.
The Distance 15 has special sleeves for trekking poles, but no respectable run commuter treks 3 miles to work with poles. We don't want people to think we are weird!  These pole sleeves are also the perfect place to store and quickly deploy machetes.
Here I demonstrate how to startle a would-be banana thief with efficient machete deployment:
You're welcome. And no, you can't store bananas in the trekking pole slots. The slots are two narrow. The banana might fit, but you'll never be able to reach your the bottom and get it.
Update: I was wrong. You can totally store bananas in the trekking pole sleeves on days you don't run with machetes.
Carrying hard bottles and other brands of soft flasks
I should have saved the saved the machetes for last, because the review can only get less interesting from here. Nevertheless, I persist.
Black Diamond would like to see you another $40 worth of Black Diamond soft flasks to go with the pack, but I didn't bite. I did check to see if some bottles I already have at home fit in the front pocket, and they do.
Here you see a 1 liter Smartwater bottle in one photo and a 27 oz Gregory bottle in another photo. These are both fit snug. So snug that I don't expect you could fit much of anything in the second mesh pocket on the same side up front. That's the breaks.

Update: actually trying to run a hard bottle up front was a bust. Super sloshy. Maybe it works for hiking. Now I see why they sell soft flasks for this!
If you want to try a different brand of soft flask, the packaging lists the dimensions  as 105mm x 170mm.
You don't need to carry water for typical run commuting distances of 3 to 5 miles, but if you take your bananas on a long trail run, you'll want water to go with them.
Bouncing, sweating and chafing
The incumbent Daylite rides pretty perfectly. I've run a 6:15 mile with it and used it for a trail marathon as well. Bounce is minimal and chafing hasn't been a problem. Yes, there's back sweat when running the pack. It's not magical.
But look at the backside of the Distance 15. Check out all that airflow potential. Could it be magical?

No, the Distance 15 is not magical.  First, the Distance 15 rides a couple inches higher. I know this because I wore the Daylite so much is wore a hole in the midback of a favorite shirt. As long as I keep wearing the Daylite over the hole, I'm good. But the Distance 15 clearly exposes the hole below it. No bueno.

Also, the Daylite has a waist belt, securing the pack at the bottom. The Distance 15 has a second chest strap.
So far I've done just about six runs with the Distance 15, and it seems to have a bit more bounce than the Daylite, especially with a heavier load. The Distance 15 has plenty of elastic to snug-in the fit, but I think this is a fundamental design issue with a higher center of gravity.
It also relates to what I'm about to tell you next.
The amazing-looking back panel on the Distance 15 isn't amazing, it's flawed. Last night I was jogging home with full load with the Distance 15 and one of the ribs of the back was starting to chafe across my shoulder blade as it moved up and down. I was able to adjust the fit some on go to minimize the movement, but it was still annoying. The open back design ends up concentrating the weight across these ribs. While the Daylite design would slide up and down your back, the Distance 15 is more like a rake.
You may be thinking "No probs for me, I'll cut my own artisanal foam shape to jam in there!". Nope. The Daylite foam pad is removable for washing or to use it as a sit pad. The Distance 15 pad is permanently sewn into the pack. I repeat, the Distance 15 back pad is not a user-serviceable part. But hey, if you want to cut the pack open, change the pad and sew it closed again, let me know how that goes.
Hopefully this will improve as the pack gets broken in, but Black Diamond definitely gets a demerit for imprisoning the back pad.
Stuff Off!
Last night I stuffed this "15 liter" pack to the gills. I even filled up the "bonus neck" with stuff. Here's how the pack looked maxed out.
Since the pack was marketed as holding 15 liters compared to Daylite's 13 liters, I was curious how this load compared. So like so many other run commuters on a Friday night, I carefully removed all my stuff from one backpack and put it another one. You see above the Daylite stuffed with the same load, with a 1 liter Smartwater bottle for scale.
Turns out they hold basically the same amount of stuff– And Yes this includes filling up the pocket storage on both as well.
Durability
If you are still reading this, thank you for your durability. You are an endurance reader.
Black Diamond touts the "stronger than steel" shell of the Distance 15. OK, but the rest of the pack includes eight elastic straps or cords, generous amounts of peek-a-boo thin mesh and a wispy nylon top.
By contrast, about every other corresponding piece of the Daylite is made of a more heavy-duty material. The Daylite only uses elastic in the side-pocket mesh. Despite this, the Daylite manages to weigh about the same (16 oz vs 14 oz) and costs less than half as much.
I estimate I've run about 4,000 miles with the Daylite over close to 5 years and it has no major wear problems. Time will tell how the Distance 15 holds up.
Waterproofness
I dutifully put my Distance 15 under the faucet the first I day got it and turned on the water. The water ran right off the back material and didn't even leave it wet. A+.
Unfortunately the pack wouldn't fare as well when upright. The fancy back material doesn't even attempt to fully cover the top of the pack. There will always be this nylon exposed. Maybe it has a DWR coating on it. When cinched close, it tends to form a bowl shape… with a hole at the bottom heading into the pack. Also, there is an intentional hole the top of the pack a potential hydration hose to go through.
The Daylite avoid puncturing the roof the pack by putting the hydration sleeve on the the outside of the pack.
This may sound like a dire state of waterproofing, but it's not. When I carry anything I don't want to get wet in the Daylite I put it in a waterproof dry bag inside the pack. I'll do the same with the Distance 15. I'll expect they'll both keep out incidental rain but not a deluge.
For the record, the Daylite comes with a waterproof coating on the inside of the pack. Like about every waterproof coating, it wears off over time.
Update: I ran to work with the Distance 15 in a steady rain. In a brand-new state, a few drops of water came in through the top and there was a damp spot inside the pack on the bottom.
To digress just a bit, I love the Sea to Summit Lightweight 8L Dry Bags for waterproofing inside these packs. I often use one on dry days to protect my laptop from my lunch. I do not recommend Sea to Summit's "Ultra-Sil" line. I got a hole in one of those puppies almost immediately as it bounced and chafed against my lunch container. Sea to Summit's lightweight line lasted multiple years before developing tiny holes and only weighs a bit more. Usually one is sufficient. Not everything needs to be waterproofed.
Aside: The Perfect Size for a Run Commuting Pack
If the pack is too small, your work clothes won't fit, you'll be late to the office and be fired. If the pack is too large, you'll pack that extra smoothie bowl you don't need. You'll end up getting cranky and injured, throw the pack in a dumpster and give up run commuting. So it's really important to get the right size pack. In nearly five years of run commuting, the ~13 liter size of the Daylite has been perfect. When full, it still runs comfortably. If you live in New York and need to pack Peter Parker's winter parka, maybe you'll want a bigger pack. But ~13 liters is a sweet spot for getting the job done and enjoying the run.

If you don't run every day, you can bring bigger loads to the office with extra food and clothing on your non-running days.
Alternatives & Conclusion
As you can guess by now, the Distance 15 is not as perfect as I'd hoped. I think it could work well for long trail adventures with light loads while also being adequate for run commuting. Will it replace the Daylite as my preferred daily run commuting pack? Hard to say.
If neither of these packs are perfect, is there one I missed? Does my perfect run commuting pack exist?
Given my love for the Daylite's fit and function, I had checked out the Duro 15 when it came out. It rides lower like a backpack with a waist belt instead of a second chest strap. I think I would like that. I wrote it off because it weighe a honking 1.7 lbs. It's currently on sale at 50% for $70. It's a good deal if you don't mind the weight. I mean, for that weight you can buy a 36 liter pack that includes pockets up front and a waist belt to boot– the Gossamer Gear Kumo.
Somehow I managed to miss the release of the Osprey Duro 15 with 2.5L Reservoir. You might forgive me thinking it was a black version of the prior Duro 15. This newer iteration of the Duro 15 weighs in at 1.1 lbs. Much better– and only a fraction more than the Daylite. It has the fit and design details I love, while adding six pockets easily accessible up front.
If you want to be daring and choose "None of the above", try that the Duro 15 and let me know how it goes!
Update: I found the ribbed back of the Daylite 15 to be a fatal design flaw that chafed my back. I returned it and tried an Osprey Duro 15 and an Ultimate Direction Fastpack 15. I won't waste many words on the Osprey Duro 15. It was obviously flawed for my use that I returned it un-used. It can't fit a laptop. It has three buckles across the front instead of two, making a very common task longer. Extra buckles over the zippers in the back also require extra steps for the common task of getting into the bag. The mesh outer pocket seems like it would get into the way more than it's actually used.
On the other hand, the Ultimate Direction Fastpack 15 is an amazingly good run commuting pack that I've used over a 100 times now. It deserves it's own full review!
I post my run commutes on Strava, like yesterday's 7 mile run commute to get a 5k, where I placed fourth then took a more scenic route home.