Bikes
Review of Carsick Designs "Xtra Big One!" Slingset for Surly Big Dummy longtail cargo bike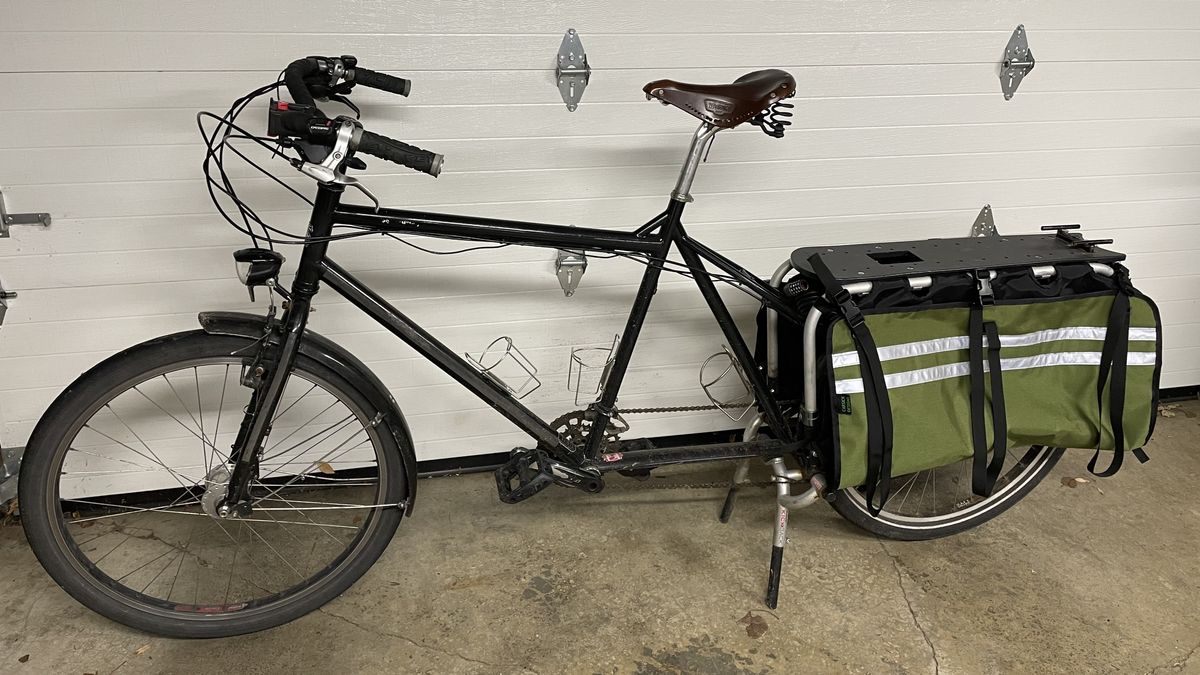 If you are shopping for bags for a longtail cargo bike like the Surly Big Dummy, you could buy some bags from Xtracycle or Surly's own "Dummy Bags", but this review is about the Xtra Big One! Slingset by Carsick Designs.
The closet product to compare the Carsick Design slings to would be Surly's Dummy Bags. I don't have those, but I do have some Xtracycle slings from 2011 that finally wore out after a decade. So I can show you the stress points on this kind of product that are prone to failure and how Carsick has addressed them.  Scroll further down more thoughts comparing the Carsick bags to the Surly Dummy Bags.
Bigger Buckles
One of the sew-in plastic buckles on my old bags eventually failed. Below the buckle-style that failed is on the right. Carsick's thicker buckle is on the left. It's a small detail, but adding strength the places that fail matters!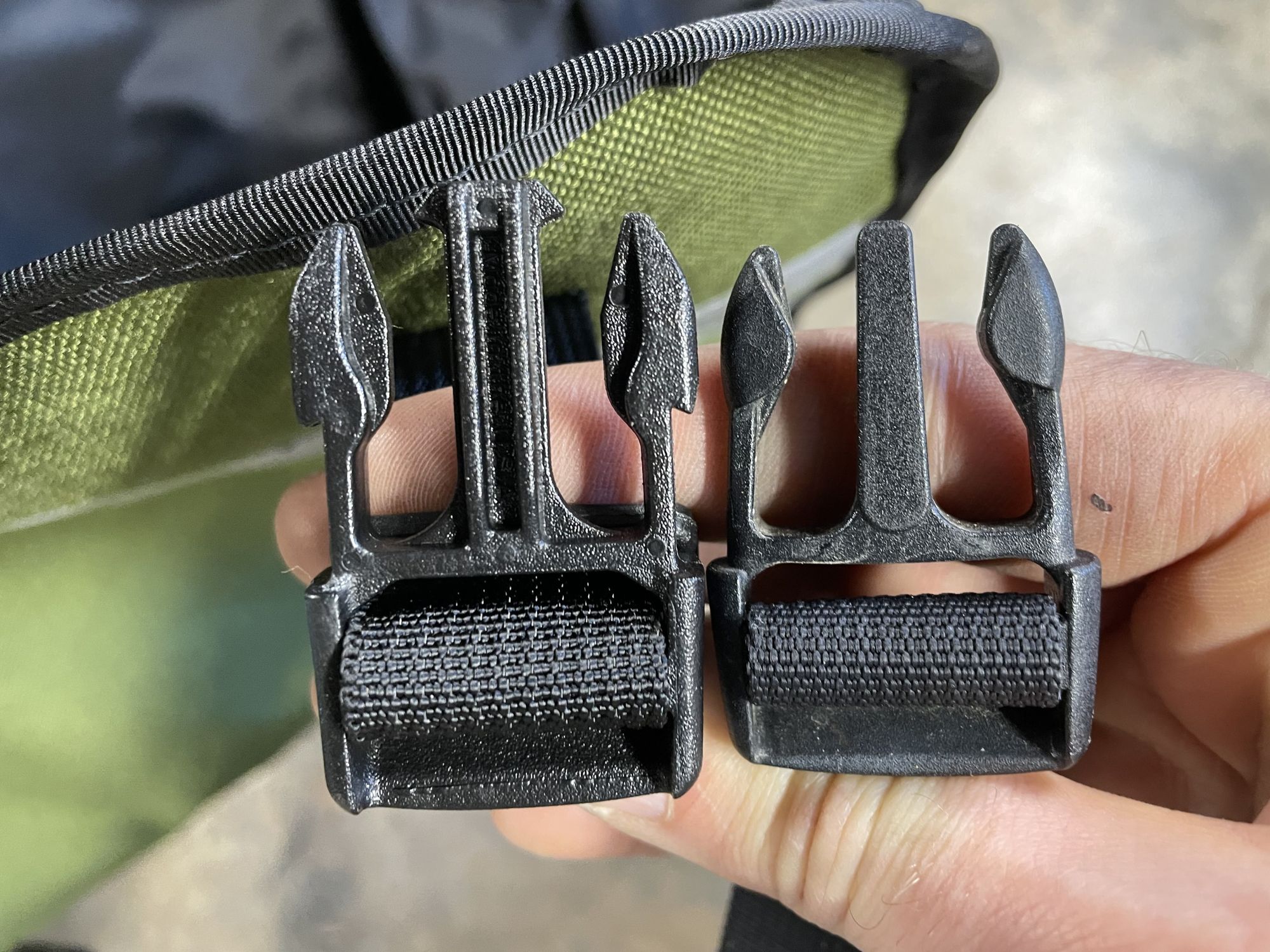 Stronger strap connections
The other place that was failing on my old slings was the point where the center strap connects to the slings. Notice that Xtracycle sewed the strap to the sling with two lines of stitching across while (below) Carsick uses three lines of stitching in the same location. But also look closely: Xtracycle sewed one line into the wall of the sling and one line into the trim. That was a design flaw– the trim wasn't intendeds to be load-bearing. Carsick doesn't attach the strap to the trim at all. A double win on this detail!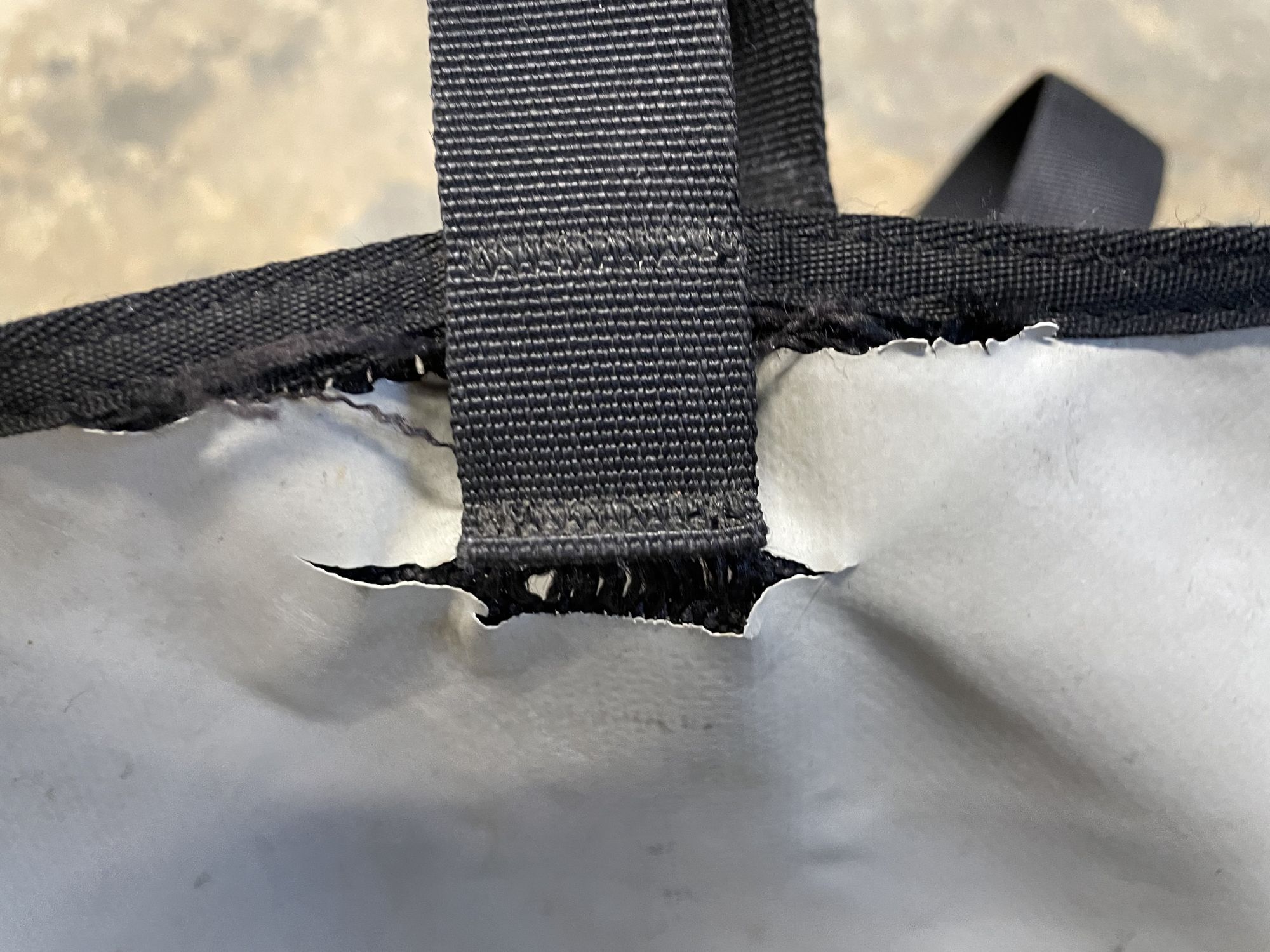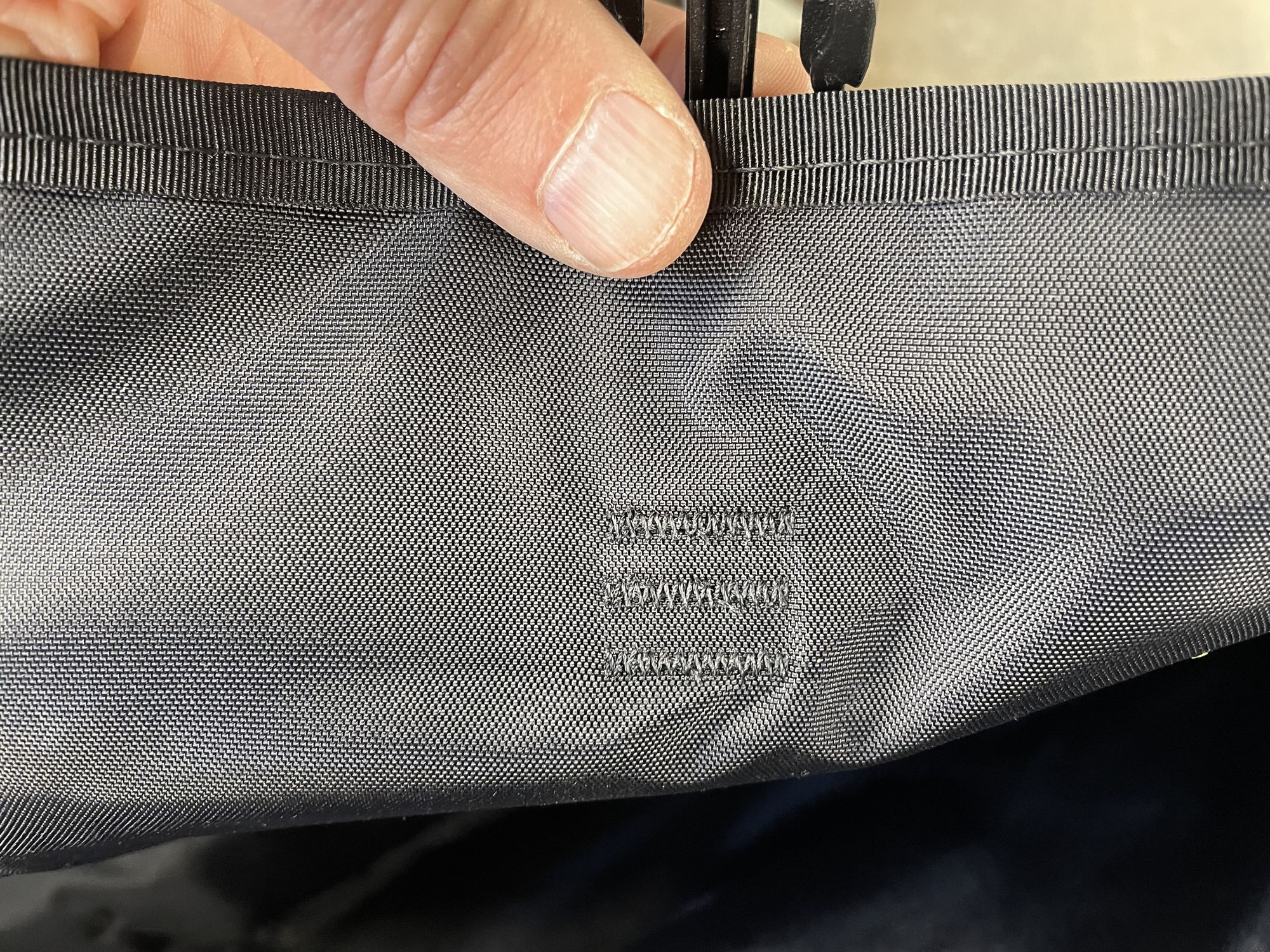 Drain holes
I don't have a photos of the next difference, but picture this: because the sling design is open, some times water can pool in the bottom. Xtracycle added a drain hole at the bottom to mitigate this... but Carsick added three. Guess which one will drain better.
Longer Straps
One hidden feature of Xtracycle's original design was that that buckles on opposite sides of the bike are designed to mate: So if you want to carry something particularly large, instead of buckling to the same side, you can buckle over the top to a strap on the other side! I'll give you some examples of how can be used. Here on a bike tour, the center strap holds down a sleeping pad: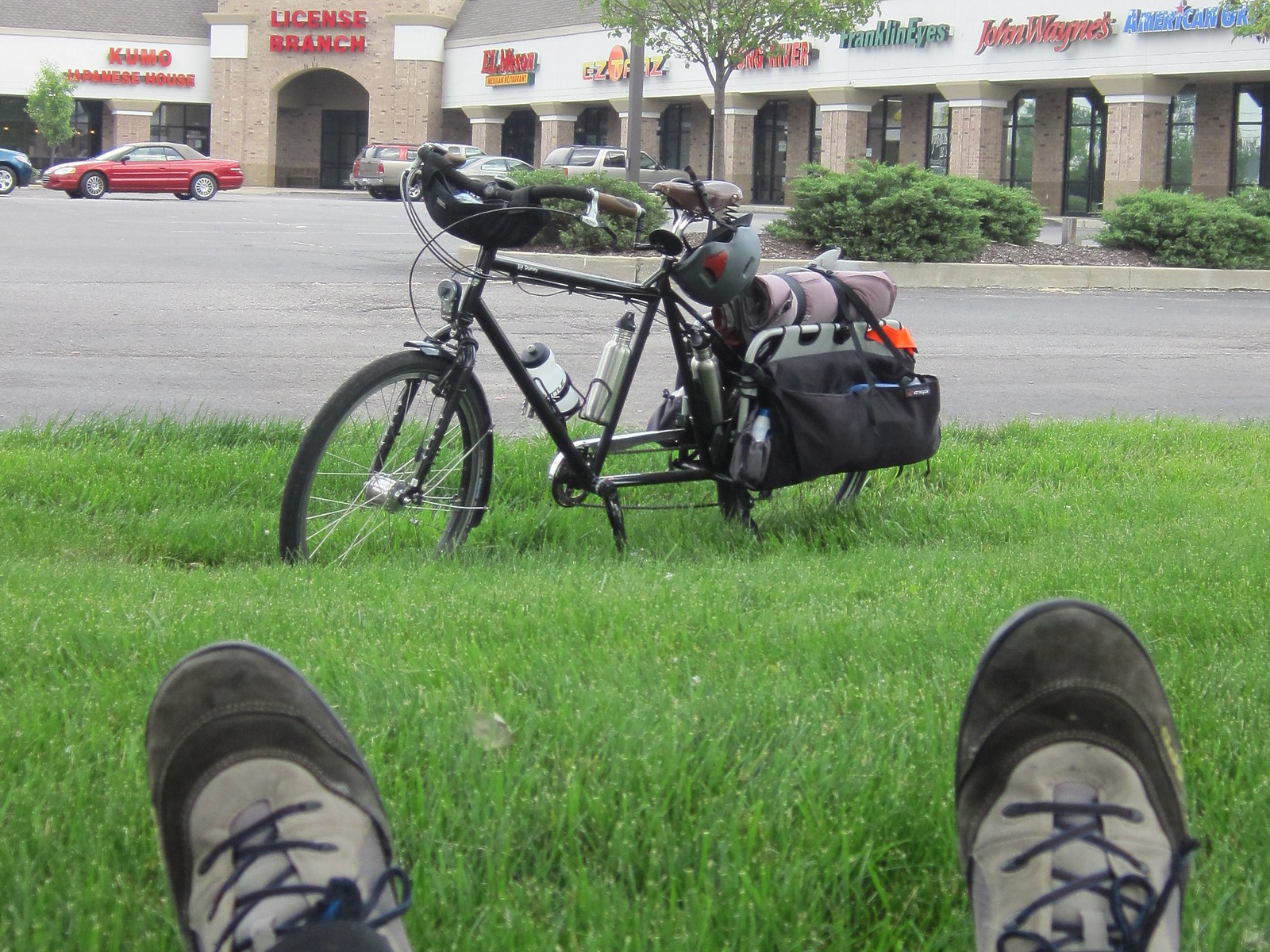 The center strap that can cross over to the other side really shines with unexpected cargo. It's like an elastic waistband when you find yourself invited to an all-you-can-eat buffet. More than once I've used the feature for unplanned yard-saling. Here we unexpected picked up a wicker basket... and then added several more purchases to the basket. Strapping over the top helped stabilize the load.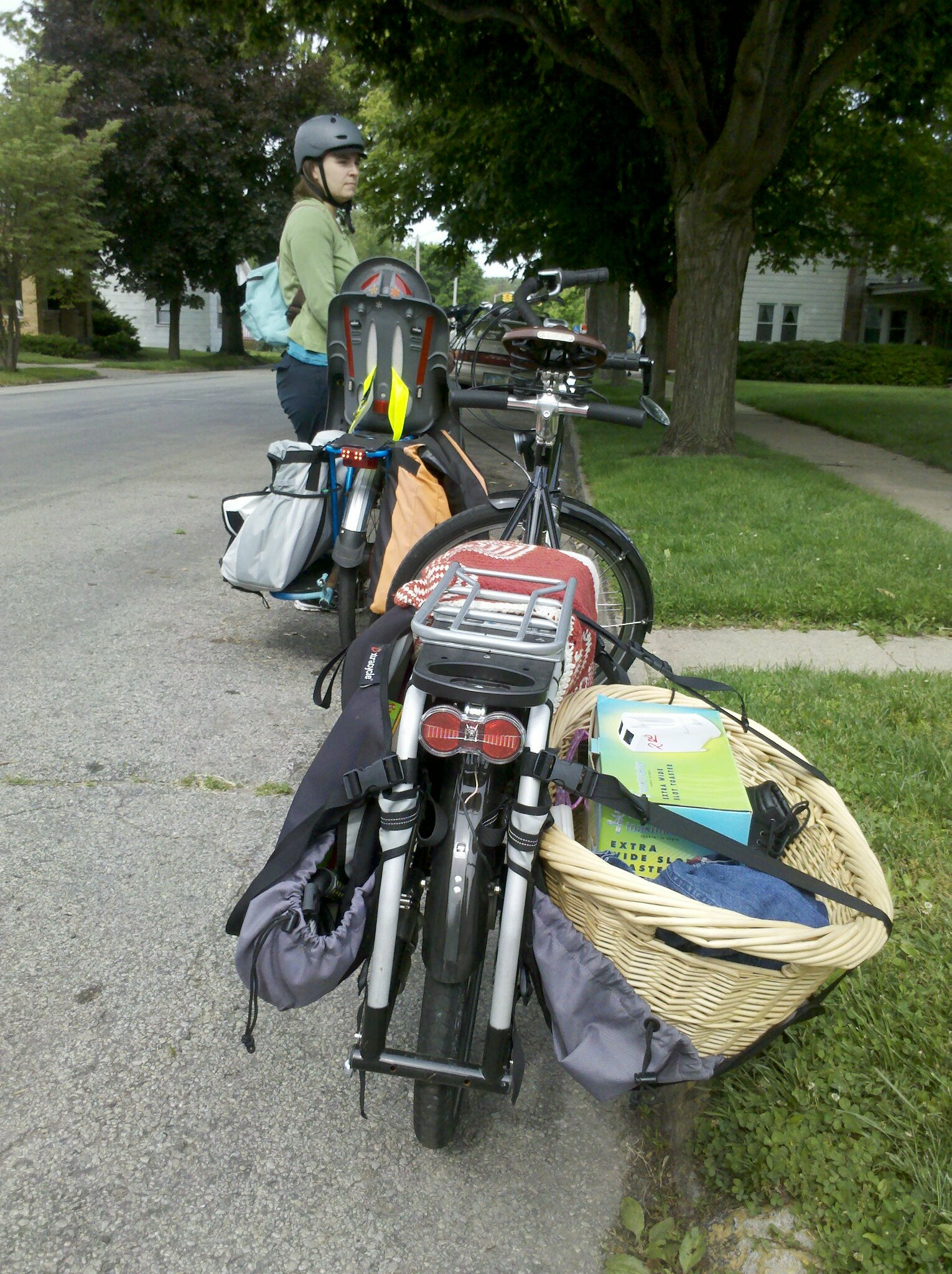 And here's the thing: When you don't know how big the the load is going to be in advance, the longer the straps can stretch, the better! On rare occasion, the old straps failed to reach. Which leads me to the next photo: Each side of the Carsick straps are almost a full foot longer! If they were much longer there would be a concern they'd drag the ground. This is a true feature upgrade for a tiny bit of weight. It's not if clear Surly's Dummy Bags have this feature at all.

More attention to detail and flexibility
The of the details I found are representative of the other details I found in Carsick's Xtra Big One Slingset bags. Here are some other details:
Xtracycle used a simple cord toggle to secure the ends. Carsick uses a cinching strap.
Xtracycle had no reflectivity on the sides, Carsick has two big reflective straps.
Xtracycle had a very specific frame fit: Carsick straps allow for flexibility in the height of width of the rack they are strapped to. Considering Carsick's design appears sturdier than one that took a decade to fail, these bags may well outlast the bike they are attached to, so that flexibility may be a feature one day.
Trade-offs in the inner pocket and liner
All the updates I've mentioned so far required Carsick to add a little more weight over the Xtracycle design, but Carsick also found a place to save weight where the Xtracycle design was overbuilt. Check out the interior liner and picks of the two side by side: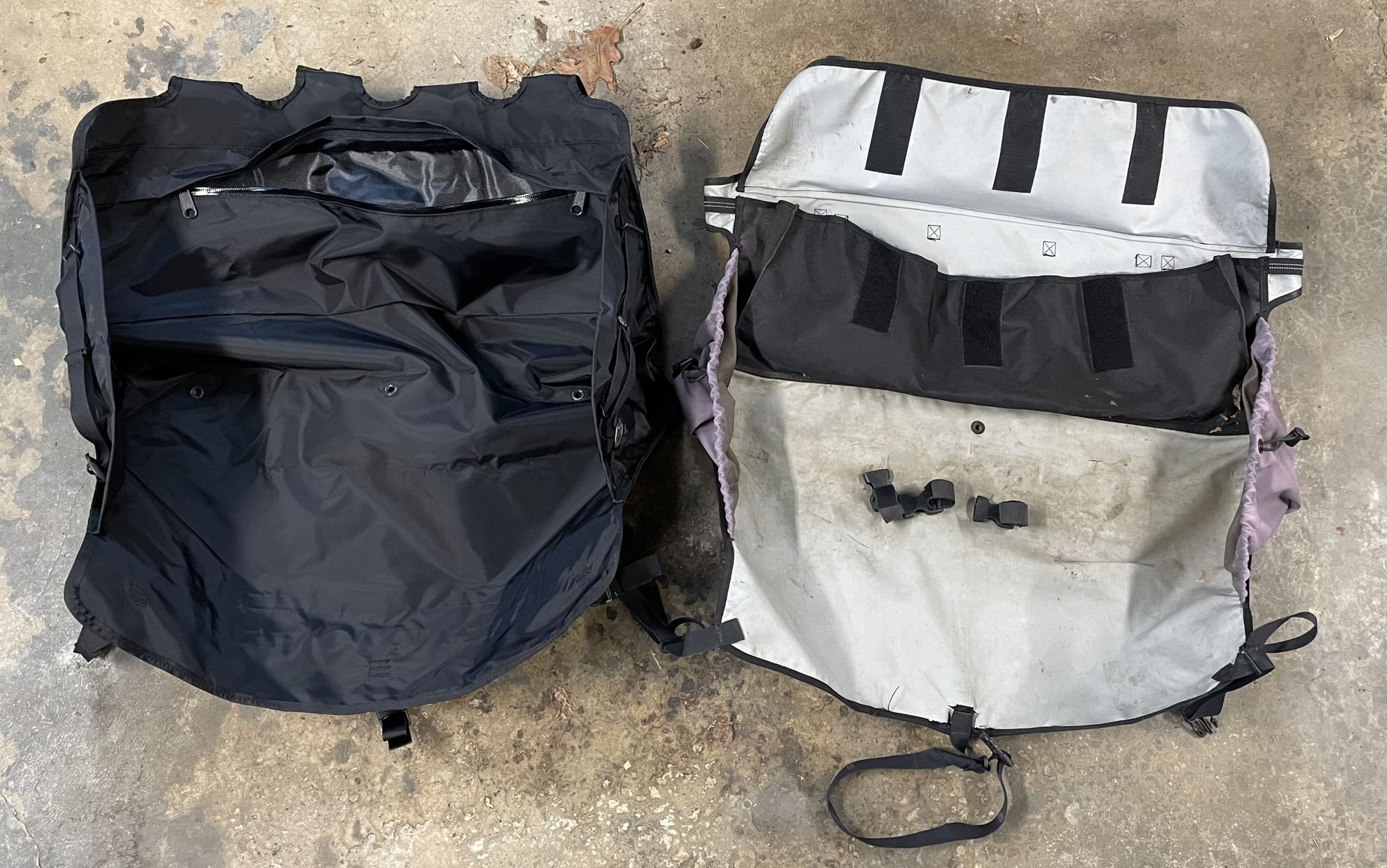 Xtracycle used heavy-duty fabric for both the interior pocket and the flap that covers it. But this area isn't load-bearing like the exterior. The fold-over flap design means the heavy duty fabric is also doubled up there, which both adds weight and adds some bulk.
Carsick minimized the bulk and weight by using a lighter material, but still gave the pocket a water-resistant lining and a waterproof zipper that is protected a small zipper flap.
The one "win" for the Xtracycle design is that they used a light color for the interior, so it's easier to see stuff in the slings. That's a lesson that Yuba learned with their cargo bikes: The first Yuba Mundo bags had a black interior, but future iterations have had a white interior to make things easier to see.
Xtracycle also used a slick interior fabric intended to shed water, but whatever value that added was offset by the single drain hole which was often not the lowest point in the bags.
Carsick Xtra Big One! Slingset vs Surly Dummy Bags
While I don't have the Surly Dummy Bags, I've had a lot of cargo bikes and bags, including huge Yuba Mundo bags with a big rain flap. A review of Surly Dummy Bags by someone who owns them can be found here:
It looks Surly tried to create a "best of both worlds" design with the open design of a sling but with a big roll-up flap for waterproofing like a bag.
But about that waterproof flap, I'm here to tell you: You ain't gonna need it. At least most of the time. Here's what you do: Take a couple trash compactor bags or trash bags and stow them in the interior pockets. These weigh just an ounce or two and you can pull them out in the probably-rare cases you need a waterproofing. Storing you stuff in trash bags also makes the security benefit of making it look like you are carrying... trash... and it's pretty awkward to steal trash off a bicycle. If you've got extended rain riding planned, you could use some dry bags.
Seriously, if you are that concerned about rain just get some bags instead. The big benefit of slings is how easily you can get stuff in and out for common trips.
Also, Surly apparently made their slings extra wide. I've carried a lot of big loads and never have I thought... "if only my slings were a little wider". So that looks like more wasted bulk the Dummy Bags to me.
It might seem like a plus that the Dummy Bags have five drain holes vs three for the Carsick bags, but like Carsick, they put all the holes in a straight line. Both designs assume that line will be along the lowest point of the bags– but Xtracycle was wrong about their guess when they put in a single drain-hole. If Surly's bags also don't fit your bag exactly as they expect, it won't matter if they have one, three or five drain holes– they won't drain! Staggering the holes a bit would have a better use of five drain holes.
Other reviewers of the Dummy Bags have dinged them for being all black with no reflectivity. I agree that's flaw. But if they added some, would they put it on rain flaps that either in the way or rolled up, or interior sling sees when the rain flaps are up?
Like Xtracycle's bags, the Dummy bag attachment system is designed specifically for the Surly Big Dummy. Notice how Surly's design requires specific non-standard bolts to attach the bottom edges of the frames. If you even want to move the slings to a different model bike or sale them, the more versatile attachments of the Carsick design will be a win.
Regarding the weight: Surly doesn't publish the weight of the slings that I can see, but give the heavy duty outer rain flap and inter pocket flap, I would expect the Carsick design to weigh a bit less but I can't be sure.
On price: Surly's Dummy Bags are priced at $275 today, vs $300 for the Carsick designs. Surly wins narrowly on price. But in my experience using cargo bike slings for a decade, I think the rain flaps are going to get the way more than they are going to be useful, so I would choose the all-around high quality Carsick Design bags.