Bikes
Review of Extreme Bar Mitts versus original Bar Mitts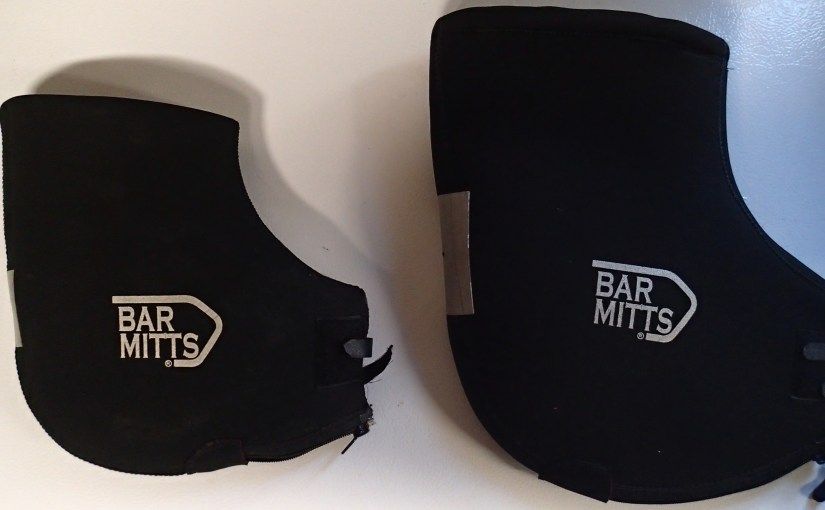 New for this winter bike commuting season are Extreme Bar Mitts. Like the original Bar Mitts the Extreme Bar Mitts are like mittens for your handlebars that stay on the bike. You operate the controls inside of them, possibly with additional gloves or mittens on.
I have long, thin fingers and tried many pairs of gloves and mittens looking for something that would keep my fingers warm for cycling. When I finally found Bar Mitts they made a huge difference for me, allowing me to ride at colder temperatures or with greater comfort than anything before. In typical winter conditions I could use lighter gloves– and sometimes no gloves– inside the Bar Mitts, allowing me to more easily and safely operate the shifters and brakes. I've been using the original Bar Mitts about four years.
Recently Bar Mitts sent me their new Extreme Bar Mitts model to try and it has finally been cold enough to put them to the test. I was concerned that Extreme Bar Mitts would be too warm, since I already found the regular Bar Mitts sufficient for me down to about 0F when paired with fleece-lined wool mittens.
Differences between Extreme Bar Mitts and regular Bar Mitts
Before I get to my review, let's review the difference in the Extreme Bar Mitts.
First, the price. Regular Bar Mitts are currently priced at $74.95, while the Extreme Bar Mitts sell for $125. Our family saves $300 per month or more by not having a second car, so cost for appropriate winter biking gear is easy to justify compared to the alternative.
Size
Here are you can see that the Extreme model is physically larger. This provides a longer sleeve to extend the warm and protection further up your arm, reducing the chance of an air getting in. It's actually the same size
as the XL Bar Mitts, so the size difference is available without the Extreme price upgrade.
The larger size does present some minor challenges. First, when you remove your arms from the sleeves, where you aim to re-insert them is now a bit further away from the handlebars. I found the difference here small compared to the original Bar Mitts, but you definitely have to aim for the opening and not just for the handlebars.
The larger size is a tad heavier, which makes it more important that it has a solid connection with the handlebars to keep them in place. More the handlebar connection next.
The extra space has another benefit which I've only lightly tested: There's more room to store something in the bottom of the mitt. I'd tried in putting a point and shoot camera in the original Bar Mitt with poor results. The Extreme Bar Mitt design has another room at the bottom to keep a Clif Bar from freezing or stow
a point an shoot camera. Mind you, I've only tested that feature in my garage, but there's more space all around to support this.
Note that as of this writing, the XL Bar Mitts are out of stock.
Handlebar connection
Here are a couple of photos of Bar Mitts turned inside out so we can see the handlebar connection. First, the original Bar Mitts:
You can see that it features a bit of velcro that you can reach into the sleeve and fix around the handlebar. This generally works well enough, but it can be a bit awkward to blindly reach a hand into the sleeve to fish this around.
Here's how the Extreme Bar Mitts connect:
There's a removable plug with a hex head bolt on the outside and a tiny matching hole in the neoprene. After installing the mitts, you can reach a hex wrench through the tiny hole which cause the rubber to bulb out and grip on the handlebars.
In my first installation attempt, I did not find this new method particularly faster or easier to deal with. It's impossible to see the bolt head that you targeting with a wrench through the tiny hole in the neoprene, so I still blindly stick one hand in a mitt to help guide it into the bolt.
I ended up giving up on the second one tightened properly after a couple minutes and just manually stuck in the plug hole and rode off. The mitt did slip off the handlebar without being fastened, but worked well enough anyway. I'm sure I'll get it right on my second attempt. 🙂
I also like to a Mountain Mirrcycle Mirror with my Bar Mitts. On the original model I cut a hole to stick the mirror through on one side. As I review the latest options available, I see that both regular and Extreme Bar Mitts now have model options for bar ends (2 holes) or bar end mirrors (1 hole). This is the model I would likely buy in the future for myself, making the plugs less of a difference between the original and Extreme.
One benefit to the handlebar plugs on the Extreme model might be security: Once the mitts are installed an additional tool is now required to remove them. Unless you are familiar with the particular wrench required and how they are they attached, it's not going to be an easy grab-and-go operation. I would feel more secure leaving the Extreme Bar Mitts in long term parking than the regular ones. That said, in the past four years I've never had a pair of Bar Mitts stolen or heard of someone who has.
I this aspect could be improved in a future design. Maybe magnetism could be used to make a bolt that easily clicks into steel handlebars. I'm not sure what's best, but I think there's room for improvement here.
Fleece lining
Another way that Extreme Bar Mitts add warmth is with the addition of a fleece liner. Here you can see the original liner vs fleece inside the Extreme Bar Mitts.
Thickness
Here you can see the 5.5 mm thickness of the Extreme Bar Mitts vs the 4.5 mm thickness of the original Bar Mitts
Sleeve protection
Finally, my favorite change. Extreme Bar Mitts have a removable cuff on the end of the sleeves with a slit opening that your arms go through. This makes the Extreme Bar Mitts much more fully enclosed and less like a open tube that you stick your arms in
In the snow and cold: regular Bar Mitts vs Extreme Bar Mitts
I have already used original Bar Mitts for multiple years. Anecdotally, I would rate their comfort range for me from about 40F to 0F. At 40F I would use them with no gloves and start to sweat in them. At 0F I'd wear fleece-lined wool mittens inside. My hands still get colder but would be functional, not painfully cold. I rarely went far at 0F, but they worked for trips up to five miles. Rides at 15F were sufficiently comfortable with Bar Mitts plus wool mittens, where they would not have been as comfortable for me with any other glove and mitten combination I had tried alone.
This past week I used the Extreme Bar Mitts in temperatures ranging from a -5F windchill up to a balmy 20F. So far I've only tried them in combination with convertible fleece-lined wool mittens.
With the Extreme Bar Mitts, I was not just sufficiently not-freezing, but comfortable even at 0F. At times I felt I was closer to sweating in the mittens than cooling down as I rode. In the teens and closer to the 20 degrees, I was almost too warm at times, and would flip open the convertible mittens inside the Bar Mitts and use my bare hands directly, although bare hands were a tad too cool at that temperature. Using lighter weight wind gloves in the teens would likely be perfect with the Extreme Bar Mitts model.
I had originally thought I would only put on the Extreme model for the coldest days, but I now suspect the comfort range extends to warmer temperatures than I expected. Now that I've tried them, I'm more inclined to leave the Extreme Bar Mitts on and use lighter gloves or no gloves in cooler temperatures than I did before. I'll also try using removing the Velcro sleeve cuffs if I get too hot.
Previously I had decided that 0F was the coldest temperature I would consider bike commuting at. That was my limit, with the warm of my hands perhaps being my weakest point. But this week I was able to comfortably commute comfortably at 0F. With Extreme Bar Mitts, I think I could now comfortably bike commute at -5F with the gear I already have.
In Bloomington, Indiana I rarely get the opportunity test riding in temperatures that cold. But when I do find my new lower limit for the temperature I'll bike in, the warmth of my hands won't be the limiting factor.
Action shots
Here are some my favorite action shots featuring Bar Mitts, featuring
the original model.