Bikes
Review: Yuba Mundo vs Xtracycle EdgeRunner (like Stoker)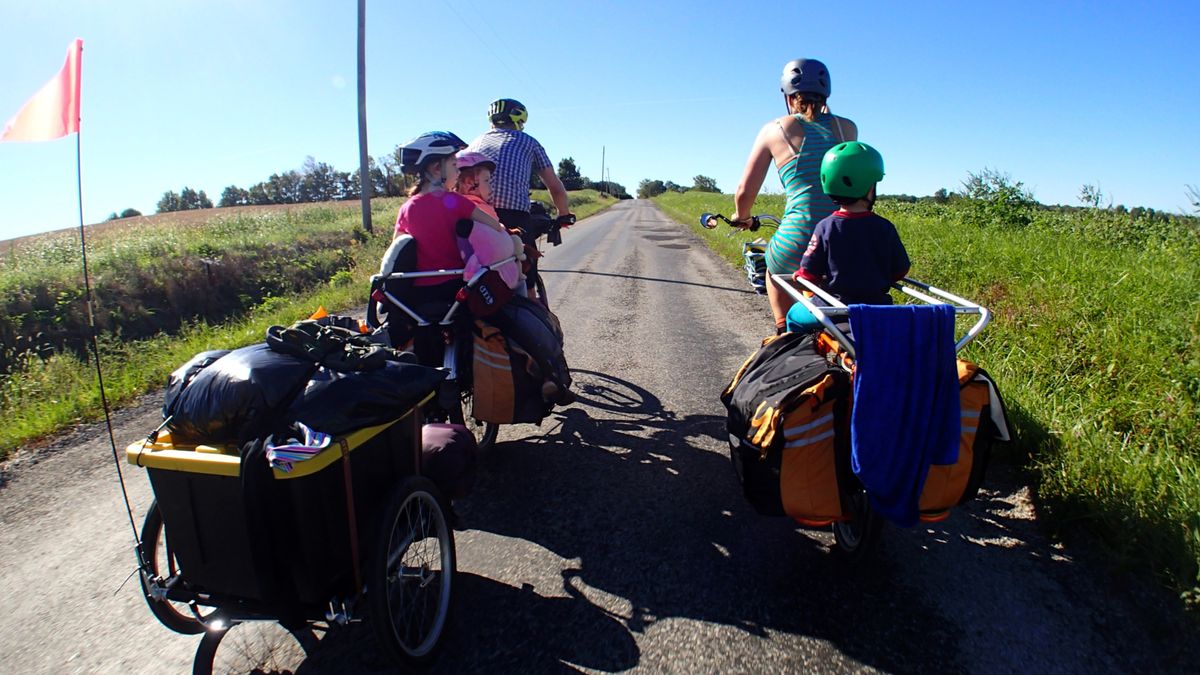 This is a guest post by Don Galligher of a Yuba Mundo and Xtracycle Edgerunner which is similar to the Xtracycle Stoker that replaced it. Neither model reviewed here has electric.
This review compares the 2013 Yuba Mundo cargo bike with the 2014 Xtracycle 27D EdgeRunner. My daughters have named our matte black Yuba "Black Pearl". The Xtracycle is named "Baliwick" after a butler in the Princess Sofia cartoon.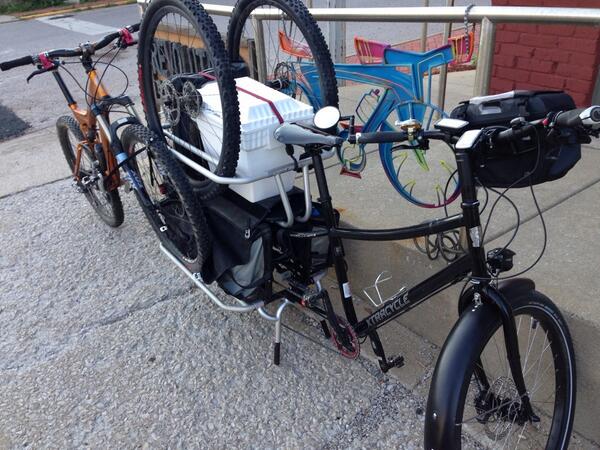 Background
Prior to this review, the Yuba has been ridden 2,000 miles over 12 months in all types of terrain (family riding, touring and urban transportation as a car replacement). I live about 5 miles outside of town, making my minimum travel distance about 10 miles for most trips.
Our Mundo is equipped with Monkey bars, two Go Getter bags, two Soft Spots, running boards, and wheel skirts. I modified the stock bike with a 9 speed drivetrain, SRM power meter, TRP's hydraulic cable pull brakes, Schwalbe Big Apple 2.3″ tires, some Ergon grips, and bar stem seat post. After upgrades the bicycle would cost approximately $3300.00.
The EdgeRunner was ridden 2 months approximately 700 miles on all types of terrain. This included family riding, touring and urban transportation as a car replacement. Accessories including the Hooptie, U-tube, and Kickback center stand, X2 bags, two Mini Magic Carpets, and Xtracycle fenders. The 27D Lux is equipped with a BioLogic generator front hub, which runs the front and rear light, and has a handle bar remote switch which can charge a USB compatible device such as your phone while riding. The EdgeRunner comes equipped with a 27 speed drivetrain by Shimano and Deore hydraulic disc brakes. I upgraded it with a Raceface narrow wide 40t chainring and a DuraAce SRM power meter. Estimated cost would be about $3,700.
It's worth noting that one of the fundamental design differences between these two bikes are that the EdgeRunner has a 20" rear wheel and 26" front wheel while the Mundo has 2×26" wheels. The 20" rear wheel allowed me to convert the bike to the simpler 1×9 drivetrain and for my needs allowed a light weight, simple shifting system.
During the test period I carried my two daughters (ages 3 and 5) for most of the miles up and down mountains, on rail trails, some off-road and paved surfaces. I carried my daughters 20" Specialized Hotrock bike, as well as towing adult bikes. I also tested each bike with some heavy loads ranging from 100-300lbs.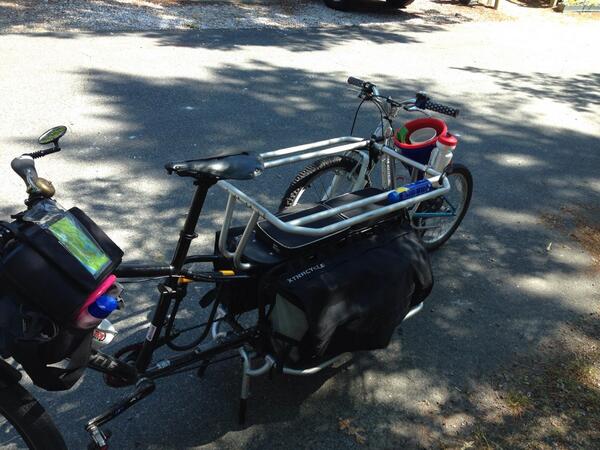 I should preface all my opinions here with the fact I put more stress on my bikes than the average user, and my expectations are pretty high of what I expect the bike to do.
General impressions
Both of these bikes are great options if you are looking for a "longtail bike" for family riding, as a car replacement, or even for a versatile slower touring vehicle. I did rides on both bikes as long as 60 miles comfortably, and my average daily commute was 14 miles round trip and these bikes both handled that commute with ease.
Handling
The Yuba is a very stable steering bike. The Mundo frame is extremely stiff and feels very balanced if you have to stand to power up a hill or desire to accelerate from a stop. The Mundo rides a lot like a traditional upright bicycle. The Mundo has a much burlier front fork than the EdgeRunner and also has front and rear bolt on axles. The rear axle is a 14mm thickness which I am sure contributes to the sensation of stability and torsional stiffness.
The EdgeRunner frame is a bit softer feeling. This characteristic is magnified as the weight of your load increases. Standing on the EdgeRunner while loaded to pedal is almost scary as the bike gets very shaky. Having said this, the 20" rear wheel allows for more seated climbing and better accelerations from a stop without standing.
While the quick release axles on the EdgeRunner are not the strongest way to secure the wheel, they offer the average user tool free wheel removal if one needed to remove the wheel to change a flat tire or for storage. The EdgeRunner does not seem to hold its momentum as well as the Yuba due to using the 20" rear wheel. Smaller wheels accelerate and decelerate faster
A strength of the 20" rear wheel is that this lowers the center of gravity for the rear deck, and makes child carrying a bit easier if your children need lifted on or whether they are climbing on and off on their own. If one were basing their decision on which of these bikes to purchase solely on handling characteristics, my opinion would be if you were looking for a bike to carry heavy loads and longer distances the Yuba would be a better choice. If you were looking for a bike for lighter duty, that had some nice features such as better climbing, and easier on and off for your kids the EdgeRunner might be a better choice.
Accessories
Let's talk about the accessories for these bikes, because this is an area where these bikes have some significant differences.
I will go through these items one by one, with my opinion where each item shines. These 2 companies seem to take different approaches to bike spec. Yuba feels fenders, wheels skirts, load bars, Deflopilator, and standalone double kick stand should be standard features, with a lower spec on drivetrain. While Xtracycle known for their modular accessory kits make you purchase fenders, and double kick stand as aftermarket or in a package. However the bike comes out of the box with slightly nicer components.
Kickstand comparison
The kickstand on the Yuba for my use was much more stable and easy to access than the EdgeRunner's stand. The Mundo's double stand has a much wider purchase for the feet, and the "Deflopilator" keeps the front wheel from turning while the bike is parked. This is a great feature I wish the EdgeRunner had, when unloading and loading children knowing the bike is stable is a reassurance I can't go without. Now the modular nature of the EdgeRunners kickstand allows for the user to remove the kickstand and drop some weight from their bike without tools; however for me this is a feature I couldn't see myself using. One of my favorite features of a cargo bike is double stands.
Bag Systems
Both companies have a bag system, Yuba call theirs Go Getter bags. They are huge water proof bags that attach to the Mundo rack with two high quality plastic clips and Velcro closures at the bottom for security and heavy loads. These bags are easily removable and have a shoulder strap for using as a shoulder bag if you wanted to. There is a single internal divider which can cleverly be used to create two internal compartments or one large "stuff space". The divider also has several smaller compartments for phones, keys tools etc. Installation and removal of these bags are a one minute or less job. This makes the possibility of using them as your carry along bag a real option. Finally these bags are actually a water proof bag that will keep your gear dry! I have had these things stuffed full and been in torrential downpours and have arrived to my destination to find my gear as dry as when I stowed it.
The EdgeRunner is equipped with their X2 bags. These are a "bag system". They are intended to have many purposes and be used as open pockets, tie downs, and probably other uses I am not smart enough to figure out. The bags claim to be waterproof. However, I could not make that happen. Even in light rain my loads were getting wet. They do have some internal organization that I really liked, with one sealed small waterproof pouch in the "flap". These bags have several compression straps to secure the load, and the flaps can be used to tuck items because of the metal lock and closures on the outside of the bags. Installation of these bags was a bit of a workout and installing the bags the first time took about 30 minutes. These bags had many loops to secure, 2 bolts to fasten, not a technical process, but a time consuming one.. I suppose the advantage to that is no one will be able to steal these bags while you're running in someplace real quick. The X2 bags will not hold as much gear and keep it dry; however, the Go Getter bags are bit heavier. For ease of use and if you ride in rainy weather, the Go Getter set up is in my opinion a better way to go. If you love straps and minimalist equipment, the Xtracycle bags might be a better fit.
Passenger Cushions: Soft Spots vs Mini-Magic Carpets
Both companies have padded cushions for the rear decks, Yuba calls theirs the "Soft Spot", Xtracycle the "Mini-Magic Carpets". My only input I can give on these two seats is related to installation. Yuba Soft Spots install in minutes with Velcro closures, have stayed secure, and seem to do the job. I had to use cable ties on the Mini-Magic Carpets, once again a bit time consuming, however, I hear they are revamping that attachment method. My daughters are the ones that ride on these and they have stated they are more comfortable on the Soft Spots, I think this is related to width, keeping in mind that we have them riding on these seats for up to 5 hours on long tours. I am sure on the daily commute they have no preference.
Hold-on bars: Monkey Bars vs Hooptie
The child carrying mechanism I use is the Yuba Monkey Bars, and the modular Hooptie by Xtracycle. Both of these items use a four bolt installation of a tubular aluminum frame that secures the children and give them a resting spot for their arms as well as hand holds. These are an accessory I really like and feel Yuba wins the naming category on this one, my girls climb on the bike using the Monkey bars, and seem to be really enjoying themselves. I feel that the Xtracycle modular approach is a more effective way to implement this design. You can remove the side rails quickly if you are carrying other cargo or you need to give your spouse a lift on the back. They pop off by depressing two small spring loaded buttons. The Monkey Bars height spacing also seems to make carrying a 20" wheeled bike a bit trickier as the top of the monkey bars fall in line with most 20" bike handle bar heights. It can be worked around, but is difficult. I would love to see Yuba go to a modular system on their Monkey bars. Both company's bars also make great load decks when not carrying children and will hold a tote or cooler well.
Fenders
Finally the fenders, I ride in all conditions and this is an important feature. I love the Xtracycle fenders, they are wide enough to accept 2.3 tires, coverage is great, and they are really stable. They also happen to look pretty cool. I only wish they were standard equipment on their bikes. The Yuba comes equipped with a fender set that provides full coverage, and in the new V.4 is integrated into the wheel skirts as a weight saving measure. My only complaint on the Yuba fenders is that when running a 2.2 tire and bigger the front fender rattles back and forth hitting the tire occasionally making a soft ticking sound. More clearance here would be appreciated. They are also plastic, and are not as nice looking as the Xtracycle set-up.
My daughter's review of Xtracycle EdgeRunner vs Yuba Mundo
As I mentioned my daughters have given me some feedback on both of these bikes.
They love the low to ground feel of the EdgeRunner for getting on and off of the bike. However, they prefer to ride on the Yuba Mundo, as they say the seats are more comfortable and the bumps don't hurt as much. This probably has to do with the Mundo's larger wheels and tires in the rear. Mom prefers the Mundo's large Go Getter bags. When we go out for an outing she stuffs the bags full of food, change of clothing, toys, sunscreen, soft cooler, etc.
Bike Fit
The Mundo is a "one size fits all" and is reported to fit riders from 5'0" to 6'5". A couple of our friends share their Mundo easily between a husband and wife that are 6'4″ and 5'4″, simply by raising or lowering the seat using a quick release. The EdgeRunner by comparison is a sized frame with multiple frame size for different size riders. If you are thinking of sharing your cargo bike between two parents of particularly different heights, this could be an issue for you.
Other aesthetics
Personally, I think the Xtracycle headbadge is awesome. It gives the bike a nice high-end look. The Xtracycle badges on the fenders and bags also look really nice.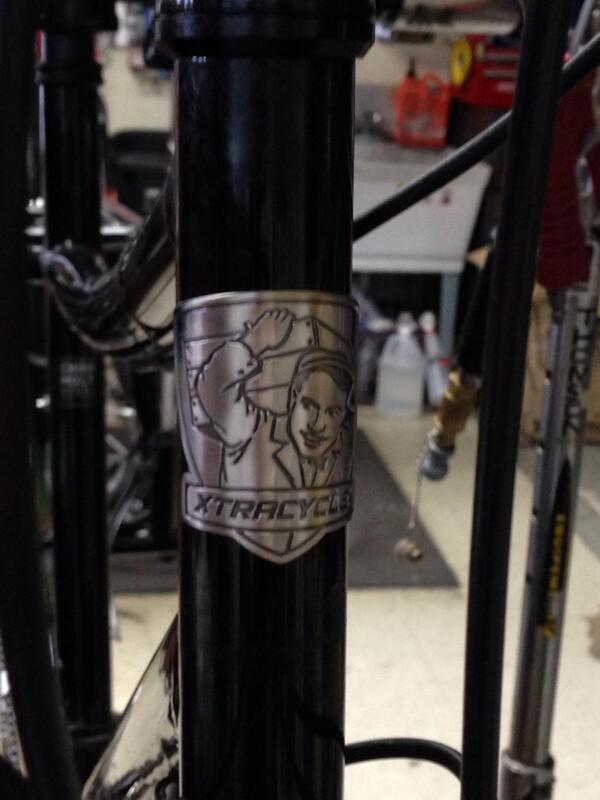 Conclusion
Both bikes have good qualities and both have a purpose for the right owner. Hopefully the features and shortcomings of each will help you make a purchase of the right bike for you.
For our family our preference was clear. We were trying the EdgeRunner with an eye towards adding electric to the bike and using it as a second cargo bike in our family. After riding the EdgeRunner 700 miles, we returned it and bought an orange Yuba elMundo Bionx instead. The girls named it Tang.
Related
You might also be interested in Mark's review of his Electric Mundo vs Surly Big Dummy vs Bakfiets . As Mark's kids grew, he has since sold his bakfiets and bought a second Yuba Mundo for his family, so also have electric and non-electric Yuba Mundo options as well.
Don Galligher is an avid family and cargo cyclist as well as a mountain bike racer. He owns Revolution Bike and Bean bike shop in Bloomington, Indiana which sells both Yuba and Xtracycle products.