Bikes
Oatmeal Banana Bites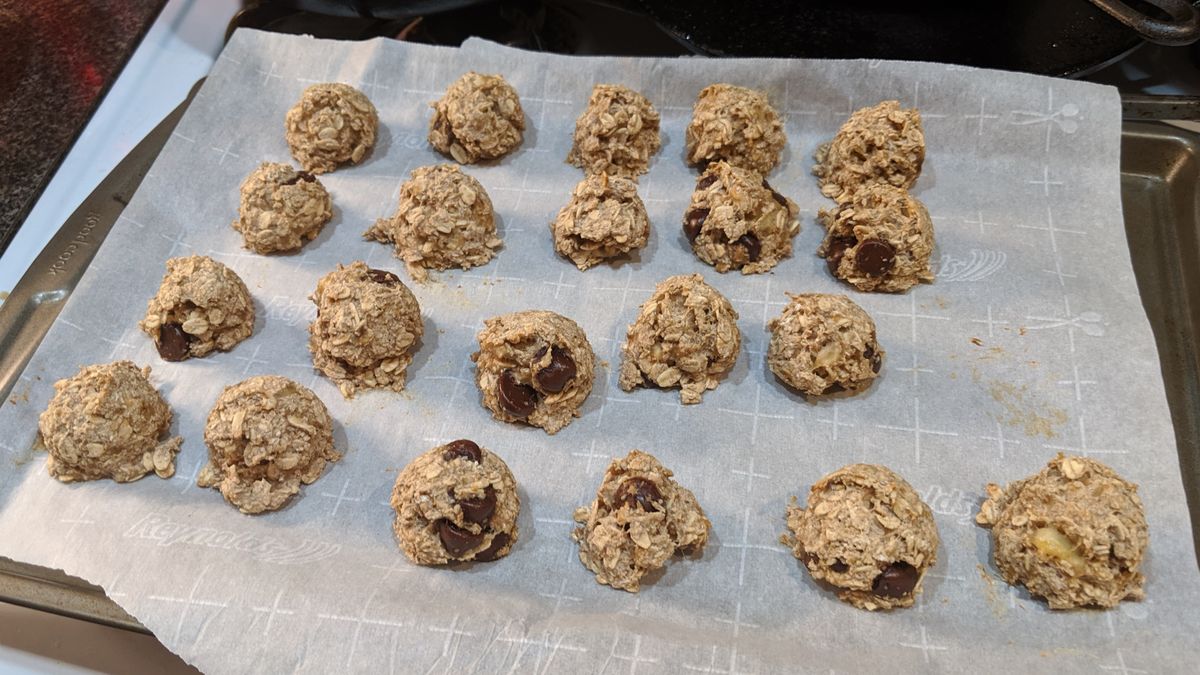 This is a family-friendly, make-ahead recipe for family bike camping– the kind I used on Mother's Day Off family bike camping trips.
This recipes contains the primary ingredients I like to have for breakfast anyway– oatmeal and bananas– but in a more portable format. Although they are quite healthy, they look like cookies. So my daughter thinks they are a treat when she doesn't otherwise like to have oatmeal. These took me about 15 minutes to put together and were ready in about 30 minutes from start to finish. I even managed to fit in making them after arriving home from work and before heading out for a quick overnight bike camping trip. The recipe comes from Dreena Burton's Cookbook Plant-Powered Families, one the cookbooks we are using to find meals are kids enjoy that without eggs or dairy. The recipe is vegan, gluten-free, sugar-free and oil-free!
Ingredients
1 cup rolled oats (use gluten-free certified oats for gluten-free option)
1 cup oat flour (use gluten-free certified oat flour for gluten-free option)
1 teaspoon baking powder
½ teaspoon cinnamon
¼ teaspoon sea salt
⅛ – ¼ teaspoon freshly grated nutmeg
1 cup pureed overripe banana (roughly 2 large bananas; see note)
1½ teaspoons vanilla extract or ½ –¾ teaspoon vanilla bean powder
3 tablespoons nondairy chocolate chips (optional, can substitute dried fruit; see note)
We don't stock oat flour– I just whiz some rolled oats in our blender for a few seconds to create some.
Instructions
Preheat oven to 350°F. Line a baking sheet with parchment paper. In a mixing bowl, combine the oats, oat flour, baking powder, cinnamon, sea salt, and nutmeg. Stir through until well combined.
Add the banana, vanilla extract, and chocolate chips to the dry mixture, and stir through until combined. Using a cookie scoop, place 2-tablespoon mounds of the batter onto the prepared baking sheet. Bake for 13–14 minutes, until just firm to the touch and a light golden on top. Remove from oven and let cool on pan for a minute, then transfer to a cooling rack.
Banana Note: Use an immersion blender and a deep cup to puree your bananas (this is easiest, but a blender or small food processor will also work). It produces a very liquefied mixture, not like what you can get through mashing. Idea: Try adding raisins, chopped dates, or chopped dried banana in place of the chips
Recipe yields enough for snacks and breakfast for a parent and one or two cycling children. For context, a normal adult oatmeal portion
would be about 1/2 cup of oats, and this recipe includes 4 times that.
Related Recipes
Even Keel Trail Bars is another make-ahead recipe posted here for backpacking or family bike camping.
💡
Recipe App Compatible! This recipe has been coded for easy importing into recipe apps.